Starbucks employees, customers express concern over new policy: 'I can't see how this will work'
NEWYou can now listen to Fox News articles!
Starbucks announced a new policy Saturday that allows anyone to occupy the coffee shop or use the store's facilities, even if they don't buy anything, but many are left to wonder if it'll have a negative impact.
The "Third Place Policy" maintains that employees should consider anyone who enters Starbucks space, including restrooms, cafes and patios, a customer "regardless of whether they make a purchase," the company said in a statement.
"We are committed to creating a culture of warmth and belonging where everyone is welcome," Starbucks said.
VETERAN AND DOUBLE AMPUTEE CLAIMS SIX FLAGS KICKED HIM OFF RIDE: 'NAH BRO, YOU GOTTA HAVE TWO REAL LEGS'
Customers using the space must still follow a set of general guidelines, which requires them to use spaces as intended, be considerate of others, communicate with respect, and act responsibly, or they might be asked to leave.
This policy comes after the company faced intense scrutiny and backlash when two black men were arrested at a Starbucks in Philadelphia.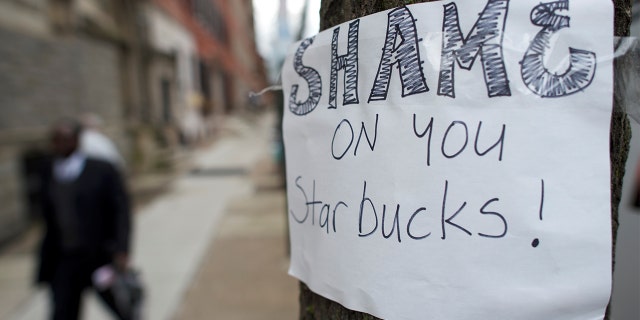 The incident, which CEO Kevin Johnson has called "reprehensible," took place last month and quickly made headlines after video of the arrest circulated online.
According to officials, the officers were told the men were refusing to leave after being denied use of the restroom since they hadn't purchased anything.
Cellphone footage shows police talking to the two men sitting at a table before handcuffing them and leading them outside. Their friend arrives, a white man identified as real estate developer Andrew Yaffe, and tells police they were waiting for him, but an officer says the men were not complying and were being arrested for trespassing.
Johnson said shortly after the men's arrest that the company had made a "mistake" and was working to "take appropriate action," including a review of company policies.
But the resulting Third Party Policy is being called into question by both customers and employees alike, who wonder what impact it'll have on stores, specifically in urban locations.
In a Starbucks subreddit, people are voicing concerns that the new policy will lead to stores being filled with homeless people and drug users. One user who claims they work at a Chicago Starbucks wrote that a homeless person using the bathroom got into a fight with a customer and police requested to see the store policy before taking action.
FRONTIER AIRLINES PASSENGER ARRESTED AFTER PEEING ON SEAT IN FRONT OF HIM DURING FLIGHT
"This is exactly the kind of behavior that I fear will drive all the regular customers away, at least from urban locations. Opposing racism is nice and all, but it is not the responsibility of Starbucks to resolve all urban problems at one location let alone turn its stores into homeless drop-in centers," another user wrote in response.
On another thread debating the new policy, a Starbucks customer expressed similar concerns. "I can't see how this will work in urban areas with large homeless/mentally ill populations... I just worry about how many employees will be put in danger (or get fired) until this happens," the user wrote.
Someone claiming to be an employee who works at a store in the loop in Chicago said they hate the new policy because the store bathrooms have turned into a hub for drug activity. "We haven't been allowed to change our bathroom codes since April. So almost all the junkies and homeless people know the code now. About once a week we find needles, drug baggies, blood all over the toilet or walls," the user wrote.
However, others argue that while there was never an official policy in place until now, many stores operated under similar guidelines before the April incident.
"I was trained on this two years ago when I started. That whole controversy was caused by someone who didn't follow policy. In fact, they went completely against policy. The only time we're supposed to kick anyone out of the store is if they are bothering other customers or are damaging the café," someone wrote.
"This is only a formal announcement of what is already unofficial policy, at least in most stores," another user wrote.
FOLLOW US ON FACEBOOK FOR MORE FOX LIFESTYLE NEWS
"At my store, we were never allowed to kick out customers that didn't buy anything. And we don't have a code on our bathrooms so anyone can use them," someone else added.
In addition to the official Third Place Policy, Starbucks also plans to implement "unconscious bias" training by closing more than 8,000 company-owned stores across the U.S. on May 29 to conduct "racial bias training."
Fox News' Janine Puhak, Michael Bartiromo and the Associated Press contributed to this report.