S'mores without the smoke are twice as good
Nothing says summertime quite like an ooey gooey, chocolately s'more piping hot from the campfire.
But who has the time—or space—to build a real fire these days?
This summer, food companies are rolling out s'mores inspired treats that take the work out of this sweet summertime snack in favor of pre-packaged marshmallow-and-graham cracker goodness.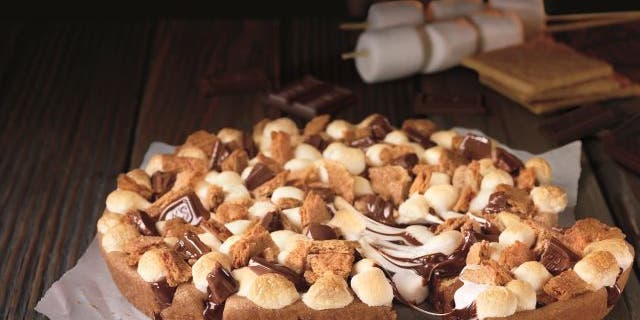 Starbucks has its S'mores bar—a layered treat similar to a blondie with a chewy graham crust, followed by a layer of fudgy milk chocolate, topped off with pre-toasted marshmallows.
Pizza Hut is going big with their Hershey's Toasted S'mores cookie. It's an 8-inch chocolate chip cookie topped with toasted mini marshmallows and chunks of Hershey's classic milk chocolate—and of course it's meant to be cut up like a pizza.
We put both to the ultimate taste test.
"This one is super crumbly. It doesn't have that crunch but I love chocolate chip cookies," said one taster of Pizza Hut's creation. "But the [bar] is incredibly rich. Maybe too sweet for me."
Others thought Starbucks' treat, which is chewier and contains way more chocolate per bite, was a home run.
"This is the best thing I've ever eaten," said one taster who asked for extra samples of the bar.
Some people acknowledged that part of the real excitement around s'mores is the anticipation of roasting a marshmallow to get that golden crust.
But will folks miss gathering kindling and setting up a real campfire?
"It's not as messy as what we make at home," acknowledged one taster. "We like easy."
Ultimately, tasters were divided between the two treats because, let's face it, when it comes to chocolate, graham crackers and marshmallows, can you really go wrong?
In addition to Starbucks and Pizza Hut, Chips Ahoy! debuted a chewy s'mores cookie that has a melted chocolate center and marshmallow-flavored and fudge chips. And Pillsbury has just released a line of Girl Scout cookie-inspired baking mixes so this summer so you can make a Samoa-flavored blondie or cupcake. Yum.
Starbucks S'mores bars are available in multipacks at participating coffee shops. Pizza Hut will deliver their Hershey's S'mores pie right to your door while supplies last through the summer.
The verdict? These treats beat getting smoke in your eye any day.