Pizza expert Dave Portnoy, of Barstool Sports, on his quest to try every slice in New York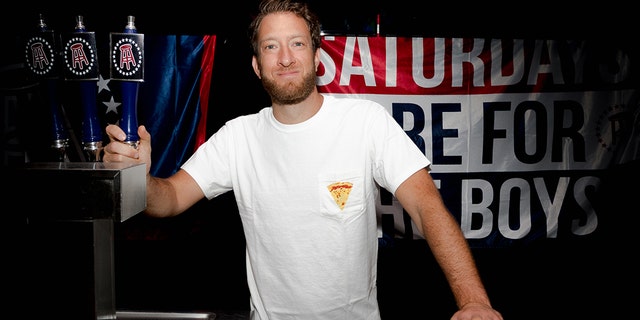 NEWYou can now listen to Fox News articles!
Already a man, myth, and legend amongs collegiates and sports fans, Barstool Sports founder Dave Portnoy is now on a mission to try every pizza in New York City.
Reviewing the slices in a now-viral video series across YouTube and Instagram, Portnoy's pizza expertise is palpable. So, in honor of National Pizza Day on Feb. 9, Fox News chatted with the media mogul about what makes a good slice, his honest feelings on pizza chains, and what it's really been like to eat the beloved dish almost every day since June 2016.
Dig in for a taste.
Fox News: What inspired your mission to try every pizza in New York?
Dave Portnoy: It really was an offhanded thing that actually started because of an employee of mine, Dan. Before we were in the same city, we struck a debate: "If you could only eat one food the rest of your life, what would it be?" He said tacos, I said pizza, and that's how this started.
So we moved from Boston to New York about two years ago, and I had always grown up with pizza in Boston. I had said, kind of offhandedly, that I would try every single pizza place in the city and I'd start doing it right when I moved. People seemed to love it, and it just caught on.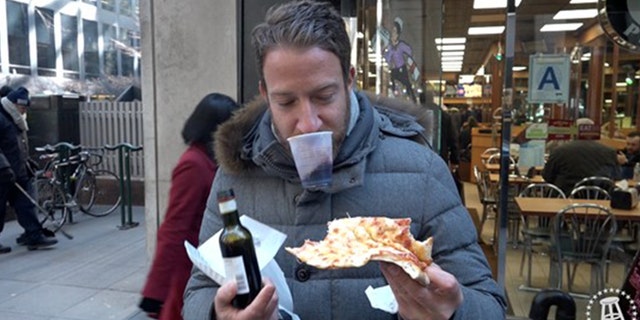 TOM 'BUTTERFINGERS' BRADY DOUGHNUTS SOLD AT PHILADELPHIA BAKERY
Fox News: As per the rules of your challenge, you take a single bite of a pizza slice and rank it on a scale from 1 to 10, correct?
Portnoy: Correct – there are no other rules. It's a different place every single time, and it's supposed to be your knee-jerk reaction. You take it, you eat it, and you spit out the score right away.
Fox News: Since your mission began in June 2016, how many pizza shops have you visited?
Portnoy: Ooh, we've probably done close to 300, or a little more than 300. Yeah, a lot!
Fox News: Have you really eaten a slice every day since? Do you ever get sick of it?
Portnoy: I don't always do it on the weekend, but yeah — if I am traveling, while we're there, I will. It's become quite a grind since then. A lot of the places are no longer near our office, which is in Flatiron, so we're traveling pretty far to get to these places. But yes, every day. I only eat the whole slice if I like it. If I don't like it, I just take the bite and throw it away.
And no, I'll never get sick of pizza. I love it. The hard thing is that I used to eat pizza all the time for dinner — now I'm eating it for lunch everyday.
Fox News: You've eaten pizza alongside famous chefs, sports stars and celebrities. What's one of your favorite memories?
Portnoy: Robert Kraft was one very cool [guy], we did that in Las Vegas, at the Mayweather-McGregor fight. He was in a secret [part] in the Bellagio that him, Alex Rodriguez and Jennifer Lopez were all staying in.
More and more we've been filming it with celebrities lately. Scott Van Pelt, he liked doing it. Even this past week, we did it with Emmitt Smith, Baker Mayfield, Olivia Culpo, P.J. Fleck — he's a coach from Minnesota. It's just been wild. When I started it, I never dreamed the amount of well-known stars that would start eating pizza with me. It's kind of crazy.
MCDONALD'S OFFERS 18-KARAT BIG MAC WITH TWITTER CONTEST
Fox News: Have you had any disasters along the way?
Portnoy: I wouldn't say disasters. I'm always surprised, in a sense, that people hang on these reviews. But the places that we give really good reviews to, I think they get a pretty substantial uptick in business, because people trust the recommendations.
We've had everything happen. A couple got engaged in the middle of a pizza review. We had an old man, who had a back spasm … We've had rappers start singing in the middle of a pizza review. That's the thing about New York, the streets of New York are crazy! That's what made the pizza reviews interesting. Because we do them out on the street, we never know who is going to jump in front of a camera and get involved, and that keeps them fresh, in a way.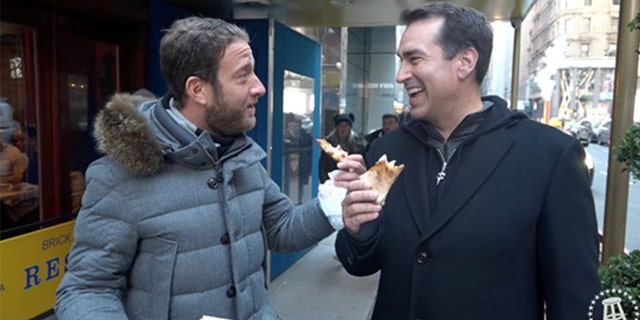 Fox News: In your opinion, what makes a good slice?
Portnoy: I like coal fired. I'm definitely, generally, always a coal-fired guy. Crispy, don't do a ton of sauce, but kind of a well-done, coal-fired pizza is my jam.
Fox News: Any current trends in the pizza world you love or hate?
Portnoy: I feel like I see more and more Neapolitan style, that I call "fancy pizza" — that's not my cup of tea; I think it all tastes the same. There are new places that do maybe fast-food pizza style, like Blaze, kinda flatbread style. I don't hate that, but it seems to be something that's coming out more and more.
FOLLOW US ON FACEBOOK FOR MORE FOX LIFESTYLE NEWS
Fox News: What's the best pizza city in the US?
Portnoy: I guess it would be New York, because there's so many of them. But there's tons of bad pizza in New York too. A lot of good pizza, but a lot of bad pizza.
Fox News: Where's the best slice you've ever had?
Portnoy: Favorite of New York is John's of Bleecker Street. My favorite of all time is Monte's in Lynn, Massachusetts.
Fox News: What's the best pizza chain?
Portnoy: It's tough, because I don't think there are great pizza chains. When you say chain, I'd probably say Papa Gino's, but [chains] are never as good as the individual, local, neighborhood places.