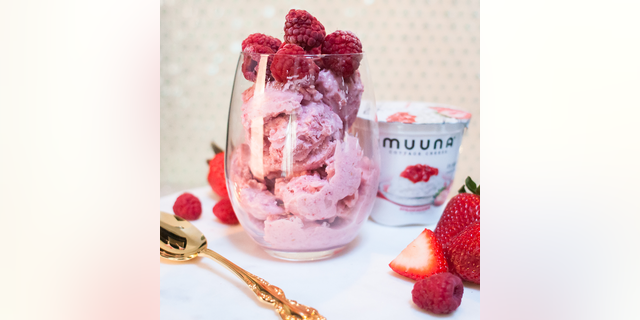 With only three ingredients and no ice cream machine required, this is the perfect dessert to make and eat as a snack, after a meal, or after a workout! Who knew that by blending frozen fruit and protein-packed Muuna cottage cheese, you could create a refreshing treat that has all the creaminess of full-fat ice cream, but contains 15g of protein to satisfy both you AND your sweet tooth!
Cook Time:
Prep Time:5 min
Total Time:5 min
Servings: 1
Ingredients:
1 Container of 5.3oz. strawberry Muuna cottage cheese
2 Frozen bananas
? cup Frozen raspberries & strawberries
Preparation:
In a food processor, add all ingredients and blend until combined. At first, the consistency will be chunky, but as the banana warms slightly, it will smooth and become more like ice cream. Scoop into a bowl and serve with toppings of your choice.
If you would like the consistency to be slightly harder (more like store-bought ice cream rather than soft serve), put the "nice cream" into a container and freeze for 1-2 hours.