Papa John's ex-CEO apologizes for using racial slur in May conference call
The ex-CEO of Papa John's has issued an apology after a report claimed he used an offensive racial slur during a May 2018 conference call with a marketing agency.
"News reports attributing the use of inappropriate and hurtful language to me during a media training session regarding race are true," John Schnatter said in a statement to Fox News. "Regardless of the context, I apologize. Simply stated, racism has no place in our society."
On July 11, Forbes reported that Papa John's founder, chairman and public face John Schnatter, uttered the N-word on a call with company executives and a marketing firm known as Laundry Service. Citing "a source with knowledge of the event," the alleged encounter reportedly led Laundry Service to cut ties with the company.
FANS FLOCK TO BLAZE PIZZA GIVEAWAY AFTER LEBRON JAMES HINTS HE'D DROP BY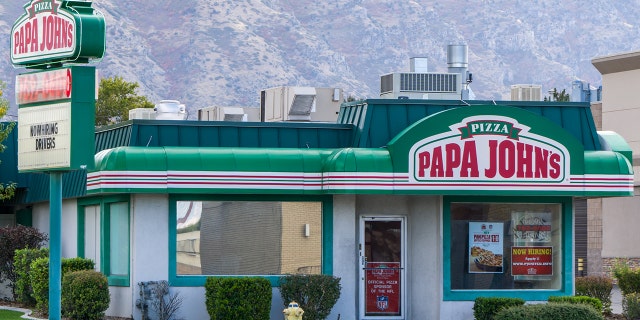 According to the outlet, the call was coordinated for the 56-year-old to practice a "role-playing exercise" to "prevent future public-relations snafus" in the wake of the scandal that forced him to step down as CEO in December 2017. The month prior, Schnatter publically blamed Papa John's struggling third-quarter sales through football season on the NFL's handling of players' national anthem protests, Fox Business reported.
At the time, the Louisville-based chain was the official pizza sponsor of the football league, before the NFL revoked its partnership with Papa John's in favor of Pizza Hut. After the dust settled, Schnatter kept his role as company chairman, Eater reports.
Supposedly, on the May conference call, when asked how he planned to distance himself from racist groups online, Schnatted allegedly said, "Colonel Sanders called blacks n------," Forbes reports. He proceeded to complain that Sanders never faced backlash for such statement.
GUY FIERI'S SHOW, 'TRIPLE D NATION,' WILL REVISIT OLD FAVORITES
The pizza chairman then allegedly spoke of growing up in Indiana, where the outlet reports that he said "people used to drag African-Americans from trucks until they died." Despite intending for the sentiment to convey his opposition to racism, Forbes' source said that multiple people on the call were offended.
Soon after, Laundry Service owner Casey Wasserman terminated the agency's contract with Papa John's, Forbes reports.
Papa John's neither confirmed nor denied the alleged incident upon returning Fox News' request for comment, and offered the following statement:
"Papa John's condemns racism and any insensitive language, no matter the situation or setting. Our company was built on a foundation of mutual respect and acceptance. One of our core company values is People Are Priority Always (P.A.P.A.) and we are committed to maintaining a diverse, equitable and inclusive workplace for all of our corporate and franchise employees," a spokesperson said.
FOLLOW US ON FACEBOOK FOR MORE FOX LIFESTYLE NEWS
"Diversity is an essential ingredient in our pursuit of providing a better product and better service to our customers and to the communities where we operate and live. We take great pride in the diversity of the Papa John's family, though diversity and inclusion is an area where we will continue to strive to do better," they added.