Ohio bar in trouble with brewery over 'offensive' sign about 'safe space'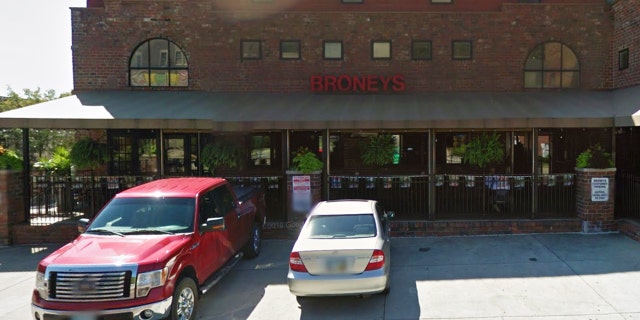 An Ohio bar is facing backlash after displaying a sign with a handwritten message that many have deemed offensive.
A photo of the sign, hanging on a wall at Broney's Alumni Grill in Athens, went viral after an upset customer shared it on social media.
DELTA PASSENGER CLAIMS MAN SEXUALLY ASSAULTED HER ON FLIGHT BUT WASN'T DETAINED: 'I WAS LEFT DEVASTATED'
Lia Knox posted a picture of the sign on Facebook Friday, which reads: "If you're looking for a safe space this ain't it Cupcake."
The handwritten message was displayed on a large chalkboard branded with the logo of Rhinegeist, a Cincinnati-based brewery and vendor of the bar. And on Saturday, Rhinegeist announced it would no longer be doing business with Broney's over the "ignorant, disrespectful" message.
"At Rhinegeist, we are committed to our people and our community. Today, we were made aware of an offensive message written on a Rhinegeist-branded chalkboard at Broney's Alumni Grill in Athens, Ohio. The content of the message was ignorant, disrespectful, and wholly inconsistent with our values as a company. As a result, we have ended our relationship with this establishment and will not do business with them in the future," the brewery wrote on Facebook.
"We look forward to continuing to champion inclusion, respect, love, and equality. Thank you and have a great weekend."
Critics of the sign noted that the bar is located near the Ohio University campus, which many claim has a high rate of sexual assault.
"Telling people they aren't safe IS inappropriate! I work as a bartender in this town and would NEVER use making people unsafe as a way to get business," one person wrote.
"I go to OU. We constantly are getting emails that people are getting sexually assaulted in our town. This is NOT okay in the environment of a college town. You people arguing saying everyone is too sensitive seriously probably know nothing about OU's culture, living in a college town or Broney's at all," someone else commented.
However, others defended the sign's message, saying people were too easily offended.
"I can't believe you are all arguing and offended over this sign," someone wrote.
"Go drink beer, eat some food and go home. If you can't do that and not be offended by words then stay home in your safe place and to not create more panic for the public," another person commented.
The owner of Broney's issued an apology on the bar's Facebook page Saturday, saying the message did not reflect their beliefs and that the sign had been taken down.
FOLLOW US ON FACEBOOK FOR MORE FOX LIFESTYLE NEWS
"As the owner I cannot apologize enough for the offensive sign that was written on the chalkboard Friday night. It does not reflect my personal feelings or the image I want my establishment to reflect. As soon as I found out about the sign it was taken down immediately and I am in the process of determining who wrote it and put it up. Again, I apologize to all that were offended and will work to make certain an incident as offensive as this never occurs again," the statement read.
It's unclear whether the person who wrote the message will face any disciplinary action. Fox 19 contacted the bar on Sunday night but was told the employees couldn't comment on the matter.