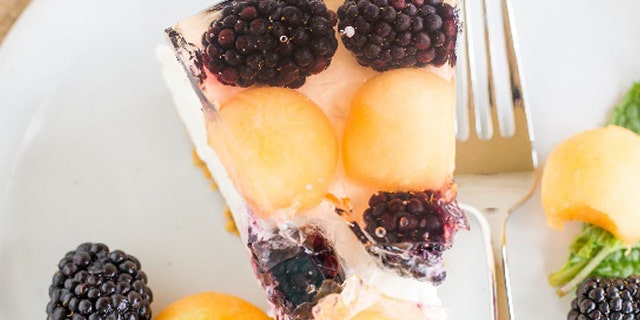 A graham cracker crust, rosé-infused no bake cheesecake filling, and a rosé gelatin poured on top of cantaloupe and blackberries.
Cook Time:
Prep Time:1 hours
Total Time:5 hours
Servings: 16
Ingredients:
1 cup rosé wine, divided
1 envelope unflavored gelatin
1 cup water
2 tablespoons granulated sugar
1½ cups graham cracker crumbs
2 tablespoons granulated sugar
6 tablespoons salted butter, melted
2 packages (8 ounces each) Philadelphia cream cheese, at room temperature
? cup rosé wine
1½ cups heavy cream
? cup granulated sugar
1½ cups cantaloupe balls 1-inch in diameter (the small side of a standard melon baller)
1½ cups blackberries
Preparation:
Place ½ cup of the rosé wine in a small bowl and sprinkle with the gelatin. Allow to soften for 5 minutes. Bring the remaining ½ cup of rosé wine and the water to a boil; add the sugar and stir to dissolve. Pour over the gelatin mixture and stir until the gelatin has completely dissolved. Pour into a 9-inch square baking dish (or another vessel with a similar surface area) and refrigerate for 40 to 50 minutes, stirring occasionally, until it has thickened to a syrup-like consistency.
In a medium bowl, stir together the graham cracker crumbs and sugar. Pour the melted butter over top and, using a fork, stir together until the mixture is evenly moistened. Transfer to a 9-inch springform pan and press into an even layer. Refrigerate while you prepare the cheesecake filling.
Using an electric mixer on medium-low speed, beat together the cream cheese and rosé wine until completely smooth, about 1 minute. Add the heavy cream and beat on medium speed until the mixture has thickened, about 30 seconds. Increase the speed to medium-high and gradually add the sugar, then continue to beat until the mixture is very thick and holds very stiff peaks (about 2 minutes total). Scrape down the sides of the bowl and beat for another 30 seconds. Pile the filling on top of the crust and smooth the top with a spatula.
Lightly press the blackberries and cantaloupe onto the top of the cheesecake as desired. Refrigerate if the gelatin mixture is not ready yet. Once the gelatin mixture has reached the thick, syrup consistency, very slowly pour it over the fruit. Refrigerate for at least 4 hours prior to serving.
5. When ready to serve, run a sharp knife around the edge of the springform pan and release the sides. The cheesecake can be stored in the refrigerator for up to 2 days.
Given that there is uncooked wine in this recipe, it is not recommended to serve it to children. This cheesecake can be prepared a day in advance and refrigerated until ready to serve.