Mexican brewery mocks Trump, depicts president as swastika-wearing mariachi
NEWYou can now listen to Fox News articles!
No wonder Donald Trump isn't a big fan of alcohol.
A Mexico City brewery named Casa Cervecera Cru Cru has debuted a beer that pokes fun at President Trump, depicting him as a sad mariachi musician on its label.
The brewery's caricature of Trump — which is prominently featured on the front of every bottle — pictures him wearing traditional embroidered mariachi garb, albeit with a swastika-emblazoned belt buckle. Trump's sombrero, too, is inscribed with what appears to be an obscene phrase.
SMIRNOFF VODKA TROLLS TRUMP IN NEW BILLBOARD CAMPAIGN
The beer's name — Amigous Cerveza — is also said to be a purposeful misspelling of the word for "amigo," and a slight dig at "bad American pronunciation," according to Reuters.
Casa Cervecera Cru Cru's chief executive, Enrique de la Reguera, further tells Reuters that Amigous Cerveza is already a huge hit after first launching in May.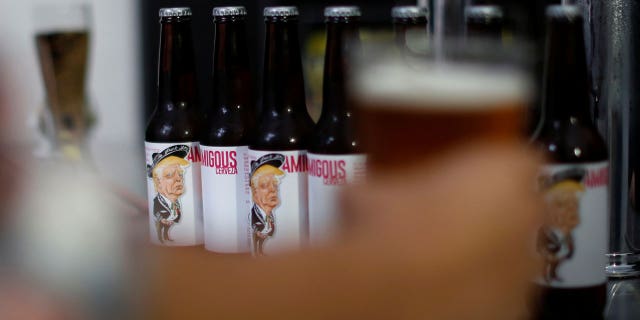 "We knew that a Trump label was going to be controversial, but it's been selling extremely fast," said Reguera of the mango-flavored New England-style pale ale.
TRUMP BEER FOR SALE AT BREWERY IN UKRAINE
However, Reguera's brewery can't take all the credit for Amigous Cerveza's success. The beer was the joint creation of Casa Cervesera Cru Cru, its partners at the Error de Diciembre brewery, and Epic City Brewing, located in Salt Lake City.
According to Reuters, the partnership between Cru Cru and a north-of-the-border brewery celebrates cooperation between Mexico and America during Trump's tenure in office. What's more, the breweries had reportedly been planning Amigous Cerveza since before Trump took office, and sometime after he stated that Mexico was sending rapists, criminals and "some … good people" to the U.S. during his campaign.
It's also quite clear what the breweries think of President Trump, as the back of Amigous Cerveza's bottle states he should be "in a mad house, not the White House."
FOLLOW US ON FACEBOOK FOR MORE FOX LIFESTYLE NEWS
Cru Cru, however, isn't nearly the first brewery to troll Trump with its craft-beer offerings. Leading up to the 2016 election, a Mexican brewery called Cerveza Cucapá sold Trump t-shirts which transformed into anti-Trump t-shirts after exposure to heat. In April 2017, a Canadian beer brewery by the name of Maverick released a limited edition Fake News Ale which also featured a caricature of Trump on each can.