Mayonnaise ice cream is grossing people out on Twitter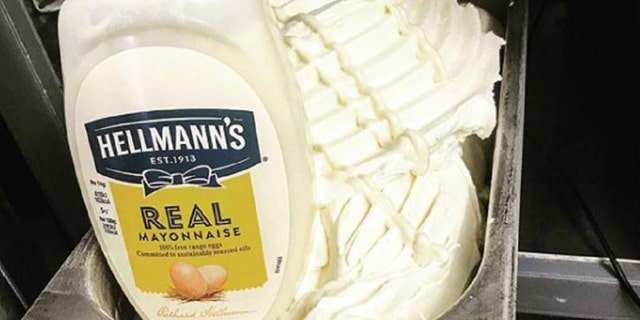 In this day and age, nothing is off the table for ice cream flavors. Gone are simpler days of chocolate and vanilla, because it's 2018 and innovators are experimenting with flavors based on pizza and New Jersey's beloved Taylor Ham pork roll — both of which are apparently pretty good. Alas, one creamery in the U.K. may have taken things too far with its latest frankenfection: mayonnaise ice cream.
Mayonnaise already has some unexpected uses. It can be the secret for perfectly-grilled food, tastes delicious on fries, and can be used to moisten up cakes. But mayonnaise ice cream? That sounds like something crawling out from a grim castle on a stormy night. But, indeed, ICE artisan ice cream in Falkirk, Scotland, is selling the bizarre ice cream.
The shop posted a photo of the unusual flavor to Instagram captioned "Who knows a mayo addict?" and some people are losing their sanity.
"JUST. NO! And, I love mayo," @curvygirllingerie wrote.
"What gets me is the sprinkle of mayo on the top like icing how could you," @denadesimone pleaded.
"TRIGGERED," @ebambs said.
"I'm going to report this page for hate content. How dare you desecrate the honor of ice cream with this monstrosity?! Ew! No! *recoils in horror,*" @ishii_lbc wrote.
And then there were those who couldn't wait to try the condiment-clad treat, and those who'd already forked over $2.62 per scoop to try it.
"I thought it was #justwrongonsomanylevels but then I tried it!!! It's actually really nice, creamy and rich," @linny 70 opined.
"I'd eat that," @maggieh.b6 said.
"I need this," @georgiegupwellx wrote.
On ICE's Facebook, a woman named Nidal Saed shared this haunting secret about herself: "I want one soooo bad. I love mayo. I can eat it by the spoon."
And on Twitter, @callikitson hypothesized that Hellmann's could just make the frozen treat extra creamy. She wrote, "It probably won't taste that bad? It probably just makes the ice cream super creamy and light instead of tasting like mayonnaise? I have a chocolate cake recipe with mayo in and it makes the cake super moist and brings out the chocolate flavour! @simonrim whats your chef opinion?"
"Makes sense – sour cream would work too," the English celebrity cook agreed.
ICE doesn't have a sour cream flavor (yet), but customers will find a Monster Energy drink variety. Unfortunately — or maybe fortunately — mayo ice cream is not available in the U.S., but these 21 unexpected flavors are.