Makers of Kona beer sued because it's not brewed in Hawaii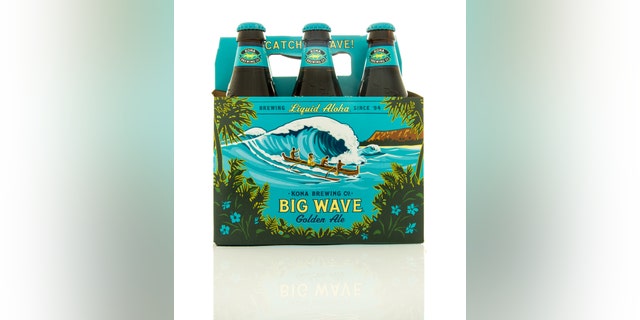 The bottles might sport hula dancers, surfers and big waves but two California residents say the company that owns Kona Brewing Co. is misleading shoppers into believing they're buying beer brewed in Hawaii.
In a lawsuit filed Tuesday in the U.S. District Court of California Northern District, Sara Cilloni and Simone Zimmer allege that Craft Brew Alliance misleads consumers about the true origin of beers bearing the Kona Brewing Co. brand, reports West Hawaii Today.
SOME 'IMPORTED' BEERS ACTUALLY MADE IN THE US
In the suit, the plaintiffs say the company's use of hula dancers, surfers, the Kilauea volcano, Waikiki beach, and other images and phrases clearly associated with the Aloha State are deceiving customers into paying more for the craft ales.
The names of the beers such as Big Wave Golden Ale, Castaway IPA, Fire Rock Pale Ale and Longboard Island Lager also allegedly give off a deceptively Hawaiian vibe.
Despite the bottle imagery that hints at Hawaiian origin, nothing on the packaging makes it clear as to where the beer is actually brewed. According to the company's website, the fifth-largest U.S. craft brewer makes beer at facilities in New Hampshire, Oregon, Tennessee and Washington state-- and any beer sold in the upper 48 is brewed at one of these facilities.
However, Kona Brewing Co. does operate a flagship brew house in Kailua-Kona on the Big Island of Hawaii, but that facility only produces around 12,000 barrels of beer annually.
Although most of their beers are not brewed in Hawaii, according to Kona's website, the beer brewed at partner breweries is made with hops, malt and proprietary yeast from the island state. The mineral levels of the water used are also reportedly adjusted to replicate the water used in Hawaii. The website also claims that a sample from each batch of beer is sent to the Kailua-Kona brewery for sensory evaluation.
FOLLOW US ON FACEBOOK FOR MORE FOX LIFESTYLE NEWS
The lawsuit is seeking class action status and unspecified damages for Kona purchasers in the state of California-- and nationwide-- over four years.
Kona isn't the only beermaker to come under fire for allegedly deceptive marketing practices. In Dec. 2015, a New York City man sued Foster's beer for allegedly deceiving him into thinking the company's beer brewed in Texas was actually made in Australia. And last summer, Anheuser-Busch agreed to settle a $50 million class action suit over allegations that it fooled customers into thinking Beck's beer was from Germany when the U.S. bottles are actually made in St. Louis now.
Craft Brew Alliance says it does not comment on pending litigation.