Love bacon? There's a 5 day summer camp just for you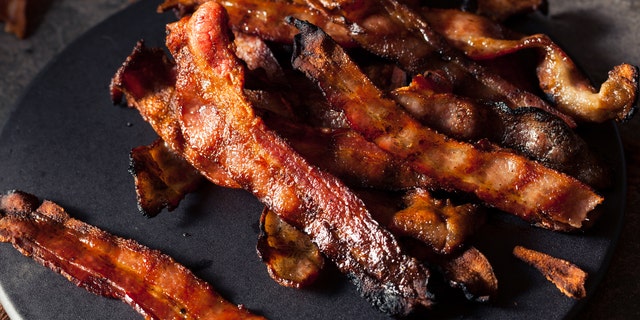 Bacon, bacon, bacon. America still can't seem to get enough.
But if you want to do more than just eat this meaty treat, there's a new festival this summer devoted entirely to this beloved pork product. Behold Camp Bacon. Based in Ann Arbor, Mich., it runs May 31 to June 4, and it promises to bestow as much knowledge about bacon as humanely possible upon all who attend.
Camp Bacon guests will get to taste test recipes, visit local restaurants where chefs use plenty of bacon, go to an evening pig roast, and walk around a street fair.
We can smell the sizzle now.
CHICK-FIL-A ROLLS OUT SANDWICH CANDIED BACON, BARBECUE CHICKEN
There are plenty of speakers and events planned throughout the five day festival. For example, on June 1 and 2, at the "Bakin with Bacon at BAKE!" event, guests will learn how to bake with cured pork belly and make treats like peppered bacon farm bread, bacon cheddar scones, sweet and salty bacon pecan sandy cookies and maple glazed bacon apple doughnuts.
The camp's main event on June 3 is an all day event featuring "13 speakers, two meals, and so much bacon."
Not only does Camp Bacon aim to fill the country's endless bacon appetite, it also offers bacon-themed music. Bacon Beautiful Music on June 1 will have drinks and melodies playing for all attendees to enjoy.
If a five day celebration of bacon is just too much of a good thing, a Bacon Ball, part of the camp festivities, will also be held on the night of June 1.
FOLLOW US ON FACEBOOK FOR MORE FOX LIFESTYLE NEWS
Clark Rachal from Avoyelles Parish in Louisiana Cajun country will roast the pig which is known as "Cochon de Lait" – which translates to "suckling pig."
Camp Bacon is being run by Zingerman's Roadhouse, a deli in Ann Arbor.
If all this bacon talk is bacon you crazy, just remember it goes to a good cause. Proceeds will be given to two non-profit organizations-- Southern Foodways Alliance and the 4H Club of Washtenaw County.