It's Tax Day, make a cocktail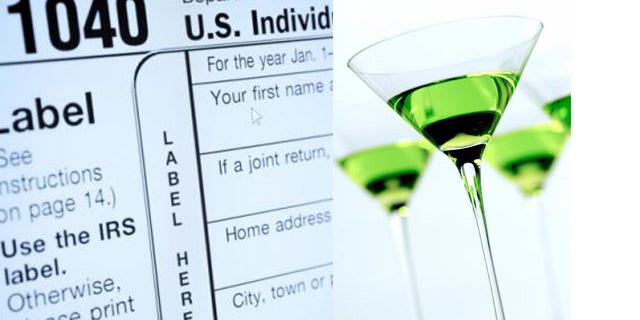 Today is Tax Day and to us that means one thing...cocktails. If there is one day out of the year that deserves its own special cocktails, it's Tax Day.
Whether you've already sent off your hard-earned cash, you're waiting until the last minute to file or you're delaying the pain as long as possible, these three cocktails should help ease the sting.
So crank out those taxes, then unwind with one of these tax-themed drinks.
The IRS Blues Martini
The Cityscape Bar in Chicago sells a blue lemonade vodka martini for $4.15 on Tax Day as part of a specially priced menu to east the pain of paying taxes. Also on the menu: an "In the Red" Bloody Mary and an "In the Black" Russian.
Click here for the recipe.
The Pain Killer
Shortly after they opened their resort in the British Virgin Islands in 1970, Soggy Dollar owners George and Marie Myrick began serving what would eventually become the British Virgin Islands' official cocktail. This drink truly lives up to its name. If it's pain you need to kill, this cocktail has got you covered.
Click here for the recipe.
The Money Maker
This pear-and-melon-flavored drink will be on the cocktail menu at the Ritz-Carlton in Amelia Island all month. In case you were wondering, it is the same color as money.
Click here for the recipe.