2013 Tax Day food freebies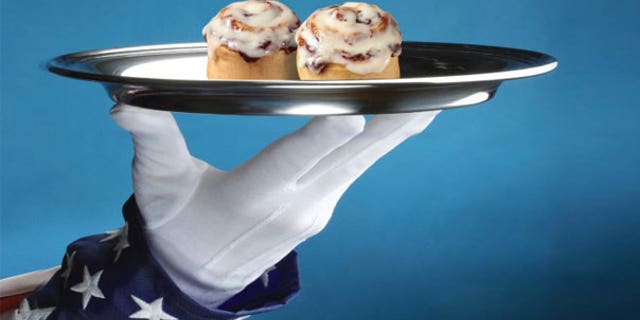 Tax Day procrastination got you down? How about easing the pain of paying Uncle Sam with a free cinnamon bun, a free rack of ribs and a free Samurai Surf & Turf? In celebration of Tax Day, companies such as Cinnabon, White Castle and Panda Express are offering discounted eats. We've pulled together a list of the best deals to make April 15 a little less, dare we say, "taxing."
Free ribs at Boston Market
This year on tax day, Boston Market is offering what they are calling a "Rib-bate." Two rib meals for $10.40 on April 15. No coupon needed. The chain's "We love the IRS" promotion will also give more than 1,000 $15 gift cards away between April 8 – 30.
Get 15 percent off at White Castle
Print this coupon from White Castle to get 15 percent off of any purchase. The offer ends today, so hurry up.
Free cookie from Great American Cookies
Great American Cookies is offering a free Limited Time Offer Birthday Cake Cookie. Click here for a coupon.
Free Surf & Turf at Panda Express
Get a free single serving of the Samurai Surf & Turf when you use this coupon.
Free fries and potato cakes at Arby's
Print out this coupon to receive a free value-sized curly fries or small potato cakes on Tax Day.
Free ice cream at MaggieMoo's
MaggieMoo's and Marble Slab Creamery are offering a free scoop of a new frozen yogurt to customers from 4 p.m. to 7 p.m. at participating locations.
Free cinnamon bun "Bites" at Cinnabon
Cinnabon is offering two free "Bites" on tax day at participating locations from 6 p.m. to 8pm.
Half price drinks at SONIC
SONIC restaurants are having "Happy Hour All Day on Tax Day." During SONIC's Happy Hour, which usually runs from 2 p.m. to 4 p.m. daily, fountain drinks and slushes are at half price. This special will be in effect all day.
Cheap bagels at Bruegger's Bagels
Get 13 bagels and two tubs of cream cheese for $10.40 at participating locations.
Half price drinks at ESquared Hospitality
All New York City locations of the restaurant group, including BLT Steak, BLT Burger and more, will offer half off on all drinks.
Free Coffee at Grouchy John's Coffee Shop
Free coffee, pastries and stamps will be available at Grouchy John's Coffee Shop courtesy of Zappos.com.