7 great places to drink outside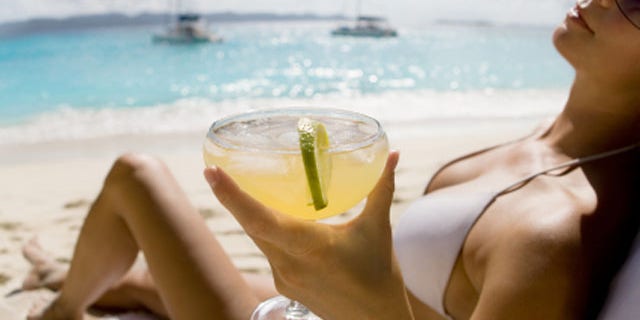 Great drinks, great settings, great weather — once spring is in the air, the appeal of a bar with great outdoor seating is easy to understand. But as simple as the basic formula is, there are, of course, variables that set some apart from the rest.
For places like C-View in Chicago, perched atop the 29th floor of the Affinia Hotel, or Wellfleet, Mass.'s Beachcomber, which sits right on the Atlantic, that variable is a stunning view. Others bars make the most of the can't-beat combination of cold brews and a warm, clear day — beer gardens like New York City's iconic Bohemian Beer Hall and San Francisco's dive-y favorite, Zeitgeist, are among those that do it best.
Then, there are those spots with an outdoor space that have something completely different to offer. In the case of St. Louis' Milo's Bocce Garden, that would be (yup, you guessed it) old-school bocce courts to go with cheap pitchers. At Brooklyn's Habana Outpost, fans pile into the patio space for live salsa music and frozen, tasty cocktails mixed on bike-powered blenders.
Excited about the start of the outdoor drinking season? Check out these 7 favorite spots across the country. Click here to see the slideshow.
Bacchanal Wine, New Orleans
This lively, no-frills spot definitely brings the Big Easy attitude to the concept of a wine bar. Located in New Orleans' Ninth Ward, the wine shop/wine bar/restaurant/live music venue is a perfect place to grab a seat around a patio chair and enjoy a bottle of wine (or two) with a group of friends. The concept is pretty simple: Buy your wine and cheese in the front retail shop, then head out back to the courtyard where you can order food and listen to live music.
Milo's Bocce Garden, St. Louis
This beloved dive definitely offers a less-than-typical outdoor drinking experience. Dive bar expert Josh Bernstein has this to say about the place: "The nicotine-stained Italian joint offers duel backyard bocce courts where seniors and hepcats alike suck back cheap pitcher of Bud or locally brewed Schlafly Pale Ale, toss a couple frames, and scarf down authentic meatball subs."
C-View, Chicago
Located on the 29th floor of the Affinia Chicago Hotel, this swank indoor/outdoor rooftop lounge is well worth a visit if you're in the market for a stunning panorama of the cityscape.
Zeitgeist, San Francisco
Emblematic of the gritty Mission neighborhood, Zeitgeist is an unpolished gem whose beer garden is just as crowded on Saturday at noon as it is on a Saturday night. Long picnic tables hold a motley crowd drinking the 40 on-tap beers, sipping the famous bloody marys, or downing food from the outdoor grill.
The Beachcomber, Wellfleet, Mass.
Located on the dunes of Cahoon Hollow Beach, so close to the Atlantic you can taste in the air, The Beachcomber is tough to beat when it comes to beachfront bars. Whether you're sipping their signature Goombay Smash or the classic Dark 'n Stormy, both taste equally fine with the sun beaming down on your face and the ocean breeze in your hair.
Bohemian Beer Hall & Garden, New York City
The walled-in courtyard of this 102-year-old Queens beer garden is full of benches, the smell of sausage on the open-air grills, and barmaids who bring by round after round of Staropramen, Czechvar, Pilsner Urquell, Krusovice, and Golden Pheasant. And don't forget to order a few plates of goulash or halusky to build a base for all that great beer.
Habana Outpost, Brooklyn, N.Y.
If your idea of a great outdoor bar experience involves great people-watching, a sprawling terrace, live salsa music, and killer frozen cocktails (made by bike-powered blenders, no less), than this Fort Greene hot spot is for you.
More from The Daily Meal:
Excellent Egg Cocktails for Easter
12 Quick and Easy Drinks to Start the Day
15 Cocktails to Celebrate Spring
The 60 Coolest People in Drink
Tips Every Home Bartender Should Know