Iowa student's Pop-Tart and cheese sandwich goes viral, gets him disowned by fellow residents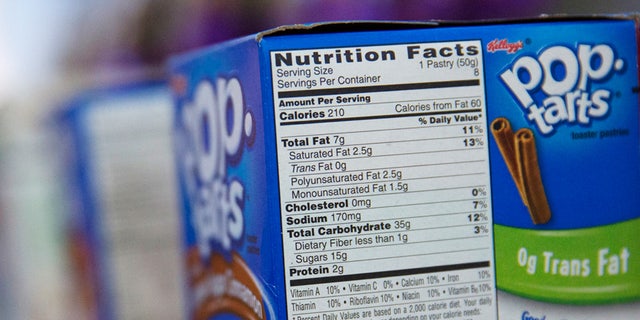 A college student's bizarre sandwich idea isn't earning him many fans on Twitter.
Late last week, Iowa State University sophomore Chris Jorgensen tweeted out a photo of a Pop-Tart and processed cheese sandwich to his 1100 followers, along with a caption reading, "You ain't from Iowa if you never had one of these."
STOVE TOP STUFFING HAS RELEASED 'THANKSGIVING DINNER PANTS'
The Iowans who saw his tweet, however, apparently had no idea what he was talking about, and they weren't afraid to share their opinions in the comments. In the days since posting his recipe, Jorgensen has been blasted by fellow residents who were so grossed-out, that they not only refuted his claims, but refused to claim him as one of their own.
One user, who responded "on behalf of Iowa," further suggested that Wisconsin should claim him instead, as they're more known for their cheese and cheese-based dishes. But soon, even this devolved into a game of Jorgensen hot-potato, with Wisconsin passing on the offer and suggesting a different state, and so on and so forth:
Others even called for Jorgensen to be arrested for his crimes against food, which ultimately prompted the official campus police of Iowa State to respond: "You're under arrest," they told Jorgensen.
NUTELLA FANS ARE FUMING OVER RECIPE CHANGE
Jorgensen's post wasn't completely without its fans. At least one person said she'd "like to try" one and asked what kind of Pop-Tarts he uses (strawberry), while another praised him for his artsy photography. According to his website, Jorgensen is a photographer for Iowa State's student newspaper.
Jorgensen, meanwhile, doesn't seem too fazed by the criticism, but rather excited that his tweet went viral on Reddit, and earned him a story in the Des Moines Register.
FOLLOW US ON FACEBOOK FOR MORE FOX LIFESTYLE NEWS
On the other hand, it's clear he sees the humor in all of this, and didn't actually enjoy his sweet, cheesy sandwich: Once his idea was shared on WorldStarHipHop's Twitter account — with no link back to the original tweet — Jorgensen lamented the fact that he wasn't getting credit for his viral, if flawed, recipe.
"I didn't take a bite of this monstrosity to have my tweet stolen," he admitted.