Howard Schultz stepping down as Starbucks CEO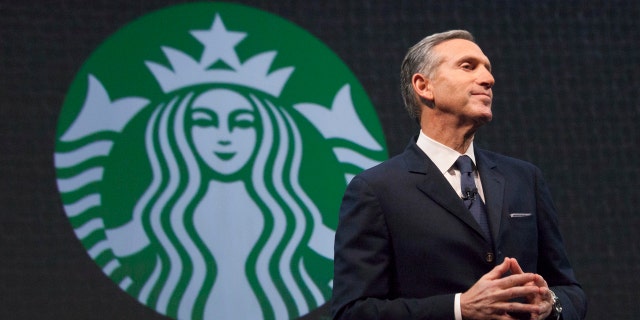 Starbucks Corp.'s Howard Schultz is stepping down as chief executive so he can devote all of his time to a new strategic initiative of opening high-end coffee shops for the 45-year-old company.
Mr. Schultz, 63, is handing over the reins to President and Chief Operating Officer Kevin Johnson, who served as a board member of the company for several years before joining its executive team two years ago.
RETURN OF THE #TRUMPCUP: PRESIDENT-ELECT SUPPORTERS PROTEST STARBUCKS WITH TRUMP'S NAME
Mr. Schultz will remain chairman of Starbucks and said he has no plans to step away from the company or run for political office, as many have speculated in the past due to his vocal stance on such issues as veterans' rights and jobs creation.
"I don't have any time horizon that would limit my engagement in the company," he said in an interview. "This gives me the entrepreneurial freedom to do what I think I do best."
The move is aimed at refreshing the Starbucks brand, which has been facing increasing competition from specialty roasters such as Stumptown and Intelligentsia as well as from mass coffee purveyors like Dunkin' Donuts, which has been introducing more high-end drinks such as cold brewed coffee.
STARBUCKS RELEASES 13 HOLIDAY CUPS
​Mr. Schultz said the approach could also help protect Starbucks from an inevitable loss of traffic from people who order more goods online, instead of making mall trips. He decided that opening high-end coffee shops that would provide a luxurious experience would entice people to leave their homes.
This story originally appeared in The Wall Street Journal.