How to avoid a Thanksgiving disaster: Tips from the pros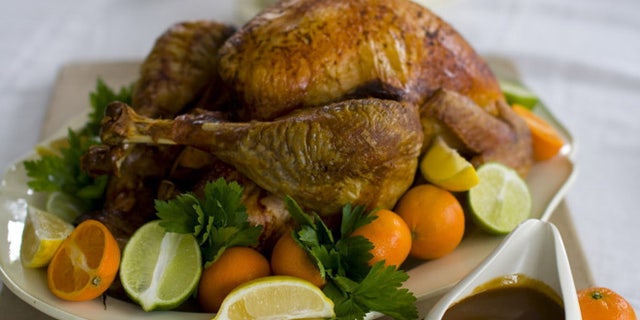 'Twas the night before Thanksgiving when all through the kitchen.
Not a pot was cooking, not even a bouillon.
The mums were all set by the foyer with care, In the hopes that hungry guests would soon enter there.
Before settling down for a long nights nap, I fussed over my menu with a sweet little night cap.
What was I missing? What mistake was unseen?
Turkey day was upon us, I must be a cooking queen!

Thanksgiving may be the perfect day to give thanks, but what about giving thanks to a delicious and flawless turkey?
Each year millions of Americans will nervously scour the Internet in the hopes of finding a miracle solution to some of the most common turkey-cooking disasters. Whether you're a newbie in the kitchen or a veteran host, turkey mistakes are bound to happen. So instead of stressing out or ordering KFC, we asked some of today's most talented and renowned chefs and food writers for their best turkey tips and advice for saving your Thanksgiving turkey this year.

Turkey Snafu: You didn't give your Turkey enough time to thaw out.
You woke up early just to put your turkey in the oven at the perfect and precise time for it to be ready for your guests. But in your groggy state of mind you're aghast to see that your holiday bird is still frozen. Should you still throw it in the oven or should you try to find some way to speed up the thawing process?
"You can help accelerate the thawing process safely by placing the turkey in a kitchen or a large bucket filled with cold water. It may take as a little as a half hour but if your turkey is more frozen than thawed, allow half an hour per pound, changing the water every 30 minutes to keep it chilled. You should also cook the bird unstuffed. This will decrease the total cooking time, saving you the extra time you spent thawing the bird.-Barbara Lynch, owner, Menton in Boston and Grand Chef with Relais & Chateaux
"Take a brick or large stone, wrap it in aluminum foil and place it in the oven so it gets nice and hot. Prepare to roast your turkey and place the hot brick or stone in the cavity so it will begin to thaw from the inside out."- David Burke, world renowned chef and restaurateur
"Warm turkey brine will actually help the turkey thaw twice as fast as normal – while adding moisture and flavor, too!" - Michael Psilakis, chef/owner of Kefi, FISHTAG, MP Taverna and the star of BBC America's "No Kitchen Required"
Turkey Snafu: You didn't give your Turkey enough time to cook.
With a dozen side dishes and timers going off, you mistakenly rush your turkey out of the oven too soon. Do you put the bird back in the oven and calmly tell your guests it will be ready soon? Or could you crank up the heat and make it cook faster?
"The best way is to pre-carve the breast off, legs and thighs. Cut the turkey up in parts and lay out on a baking sheet and roast until done. Probably about 20-45 minutes depending on the size. Also, chances are the breasts are done but not the legs and thighs, so set the breast aside or put it on the grill. - Cat Cora, celebrity chef and star of Food Network's "Iron Chef"
"Break out more wine and cocktails and throw the turkey back into the oven until it's done! It's really important to have the turkey cooked through so make sure to have fun appetizers and beverages on hand and your guests won't even know if dinners 15 or 30 minutes later than expected."- Gaby Dalkin, cookbook author and food & lifestyle blogger at WhatsGabyCooking.com.
"When you realize during slicing, that perhaps the dead center of the bird is sushi, serve the cooked pieces and pop the 'ole bird back in the oven. You will probably have some amazingly cooked pieces actually, as overlooking is the biggest and kind of unavoidable part of roasting a bird traditionally." -Richard Blais, executive chef, The Spence in Atlanta and winner of Bravo's "Top Chef All-Stars"
Turkey Snafu: You've overcooked and dried out your Turkey.
Drying out your star dish is every chef's nightmare. Maybe you miscalculated the weight of your turkey or maybe there was a glitch in your probe thermometer. It's a common mistake but is it irreversible, is there any way to save your thirsty turkey?
"Immediately remove the meat from the bones to stop the cooking process. Then, get a baking sheet and cover the bottom of the baking sheet with slices of white bread. Moisten the bread with turkey broth or chicken stock, put the turkey skin-side up onto the bread and let it rest there (Don't put it back in the oven!) and serve it with a lot of gravy."- Michael Romano, director of culinary development at Union Square Hospitality Group in New York.
"What I would do is I'd shred it and make it into a pasta sauce. Another thing you can do is transform it into a Pot-au-feu of sorts by serving the turkey in turkey broth."-Chef Floyd Cardoz, winner of Bravo's "Top Chef Masters Season 3" and the founding chef/partner of Tabla in NYC.

Turkey Snafu: You picked out too small of a Turkey
No one ever wants to sit at "the kids table" just like no one wants to get jipped on their portion of Turkey meat. But suddenly your party of six turned into a party of 10 and you're wincing at the size of your well prepared bird. Do you run to the store and grab a quick rotisserie chicken or whip up some extra mashed potatoes and sides?
"Traditionally most people don't eat as much turkey as they may like to that evening. There are so many sides to choose from plus don't forget to factor in all the pre-dinner snacking …but be very strategic in your slicing –Cut the meat as thinly as possible."- David Burke, executive chef, David Burke Kitchen
"Make a turkey and sweet potato gratin with the previously cooked sweet potatoes. Add turkey to the top and bake. To extend the turkey, also make a turkey leg risotto with wild porcini mushrooms."-Michael Tusk - Grand Chef Relais & Châteaux, Quince restaurant in San Francisco.
Turkey Snafu: You're the head chef, the pressure is on, get it right
No one is perfect and not everyone is a culinary master but if you're going to take on the responsibility to host such a food-centric holiday you better try and prepare to get it right and make it great.
"Stick to what you know! Go with the classics you know you can knock out of the park. You'll stress less, spend less time in the kitchen, and have more time with your family and friends, which is really what Thanksgiving is all about."-Katie Lee, celebrity chef and author of The Comfort Table cookbook series
"Being head chef for thanksgiving is not an easy task. You have to think outside the box as there are many problems that can arise even from the get go. I like to take the guess work out of cooking a turkey by using a probe thermometer and I personally do not stuff the turkey either as that promotes inconsistency in cooking temperatures and time in the oven that ultimately leads to over cooking."-Colin Bedford, Grand Chef Relais & Châteaux, Fearrington House restaurant
"The most important thing when you are head chef is to be organized and relaxed. It's hard to be the latter without the former, but at the end of the day, people aren't there just to eat, but to see you and all be together." -Tanya Steel, veteran food writer and editor of the Epicurious Cookbook