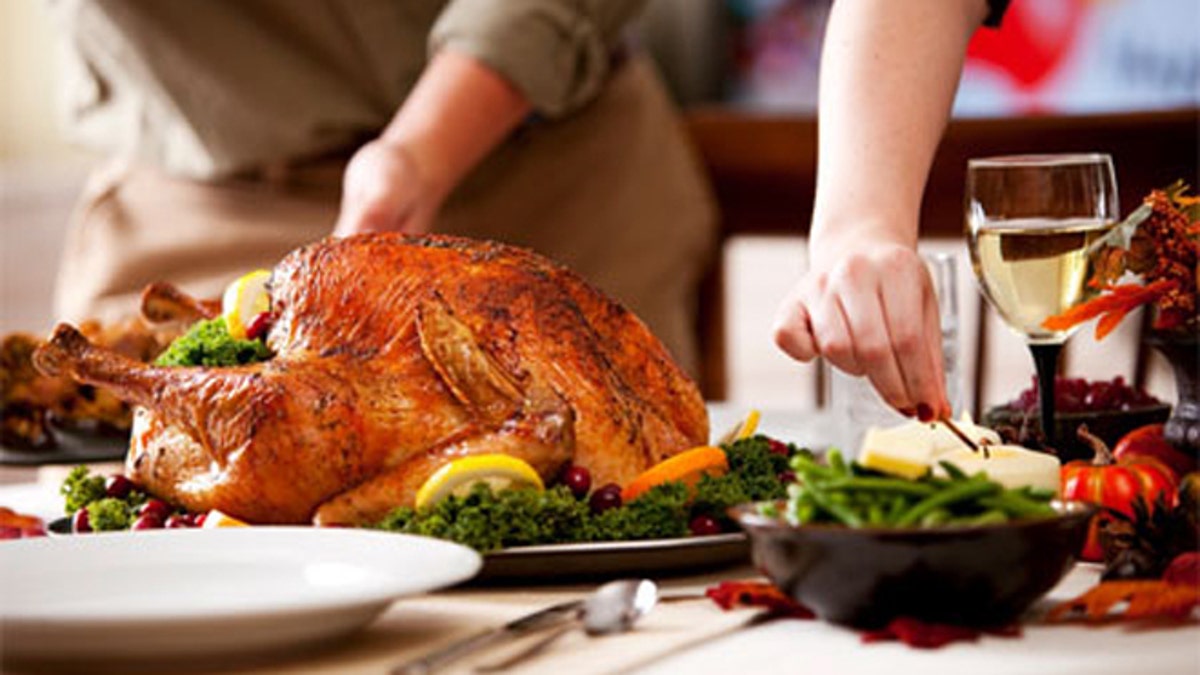 Thanksgiving has always consisted of a standard menu — turkey, stuffing, mashed potatoes, and gravy — with possibly a few additions and variations thrown into the mix. But with such a pre-determined meal every year, it's always fun to come up with some ways to add variety to the meal.
Last year, the American Farm Bureau Federation reported that the average Thanksgiving dinner for 10 people cost $49.20. That's quite the bargain at $5 dollars a person, but what if you wanted to go a little crazy and max out your credit card on the Thanksgiving meal? We decided to play a little game called "What if we were zillionaires?" and mixed things up to figure out a way to spend more, not less, on Thanksgiving dinner.

From adding a $900 bottle of wine to the gravy to folding in some $150 foie gras into the stuffing, this Thanksgiving menu is outrageously expensive, making it a holiday meal unlike any other. Although we don't expect anyone to actually whip up this meal fit for a king, we hope our pricey suggestions inspire you to add some variety to your Thanksgiving meal, and maybe a little something decadent just for fun.
Click to submit your Thanksgiving dinner photos!
The Turkey
While chef Erika Monroe-Williams, founder of The Hopeless Housewife, doesn't like to waste money, she says, "There are a few things for Thanksgiving dinner that I think if you're able to splurge on, you should."
Her first splurge is the turkey. A frozen store-bought 18-pound turkey, which sells for $1 per pound will cost you $1.80 each per 10 guests, but it's possible to spend a lot more.
"Williams-Sonoma has a Willie Bird Fresh Free-Range Turkey for about $100," says Monroe-Williams. "These free-range turkeys are from Sonoma County and are said to be amazing. They have an organic version for a 16- to 18-pound bird that costs $130."
The Gravy
"Next I would splurge on the gravy, using organic herbs, white wine, and homemade stock," says Monroe-Williams.
Homemade gravy could run about $9 for 10 guests, costing you $0.90 per person.
Up the price by cooking your gravy with some help from the vineyards, like with an $899 bottle of Chateau Haut-Brion Blanc 2005. You'll spend $75.83 per person, making it a total of $90.80 per person for the gravy.
The Potatoes
Kick up your potatoes with black truffles, which sell for about $40 an ounce. Monroe-Williams calls the addition of black truffles to a potato recipe "wonderful and decadent."
Monroe-Williams estimates that mashed potatoes with cauliflower and garlic for 10 would cost $1.08 per guest — add in half an ounce of black truffles and you'll now spend $3.08 per person.
The Stuffing
Traditional Thanksgiving stuffing for 10 people usually costs about $1.25 per guest. Get fancy by adding Sur La Table's foie gras to your stuffing for $139.95. With the addition of the indulgent duck liver, you'll spend about $15.25 per person.
The Cranberry Sauce
Forget a $0.99 canned cranberry sauce and go for pricier and higher quality ingredients instead. Try adding a cup of a $99 port wine and a quarter cup of a $35-bottle of Grand Marnier to a $5 homemade cranberry sauce.
While canned cranberry sauce for 10 guests costs $0.09, the homemade sauce with port wine and Grand Marnier will set you back $13.90 per serving.
The Pie
"Thanksgiving is so traditional," says Emily Luchetti, executive pastry chef at Farallon and Waterbar Restaurants in San Francisco. "I always do some fun stuff for me."
Luchetti's suggestion? "Buy a really good pie."
Sure, grocery stores sell a pie for $10 (about $1.67 per serving) but go for something pricier and yummier, too. Consider the 10-inch pecan pie from New York City's Little Pie Company, which sells for $30 and will feed about six guests for about $5 per person.
See the rest of the ridiculously expensive Thanksgiving menu here
More from The Daily Meal
10 Common Gravy Mistakes

The Daily Meal's Fast-Food Thanksgiving

The Ultimate Leftover Thanksgiving Turkey Sandwich

What Kind of Turkey Should You Buy?