Grill lovers gift guide: Ultimate barbecue tools
Cookout season is well underway but not all home chefs are confident about firing up the grill. Is your meat a little dry? Not so flavorful? Or maybe you're having trouble scraping down your grates.
From blue-tooth thermometers to a master marinator, these tools are great for cookout pros and novices alike.
1. Grill Charms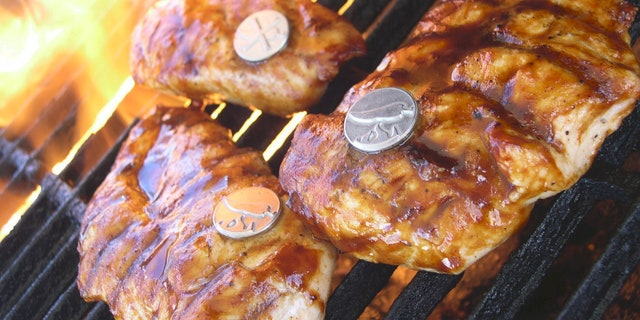 Any "Shark Tank" fan will recognize these handy little meat markers. These dime-sized charms are made from stainless steel and can be customized for your favorite griller. Simply place them onto your food before grilling to denote a guest's desired doneness, seasoning preference or to indicate an allergy.
2. Choice Cut meat ornaments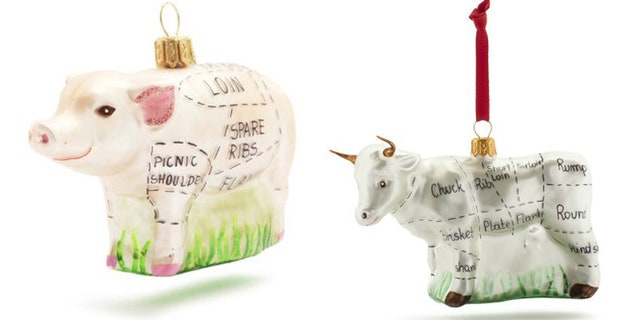 A real meat lover knows his favorite cut of steak or pork. Celebrate those prime cuts with these fine crafted ornaments. Never confuse a sirloin with ground chuck again.
Price: $25 each
3. Craft Beer Barbecue Sauce Set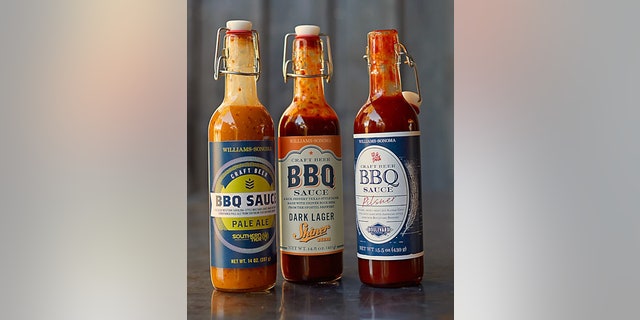 What goes better with barbecue than beer? These craft sauces combine two great things in one. There's Pale Ale, Shiner Bock and KC Pils infused sauces perfect for chicken, pork, beef and even veggies. Each sauce can be used as a marinade or for dipping.
Price: $38.85 for three
4. Monogrammed BBQ Tools Set, Williams-Sonoma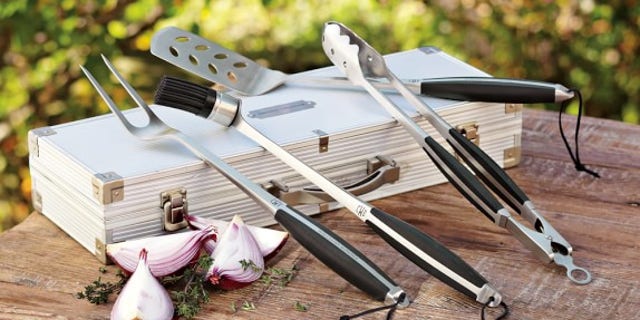 Let the barbecue lover in your life be the boss of his or her own pit with these customized grill tools. Extra-long stay-cool synthetic handles protect hands and have loops for hanging and can be engraved with up to three initials.
5. BBQ Lovers Christmas Kitchen Towel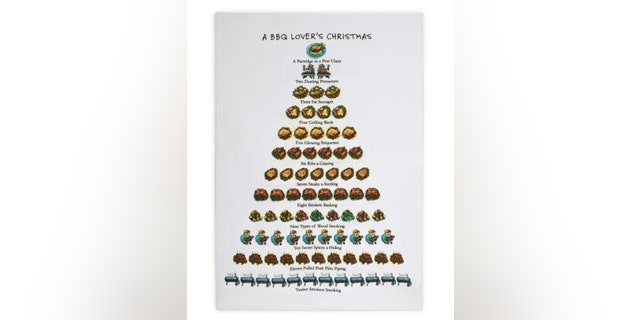 Celebrate the 12 days of Christmas like a true meat lover. This cotton towel features some of the best things about barbecue, from brisket to wood smoke. Perfect for sopping up messes indoors and outdoors during grilling season. Towel measures approx 27" x 19" Material: Cotton
6. The Smoking Gun, Indoor Smoker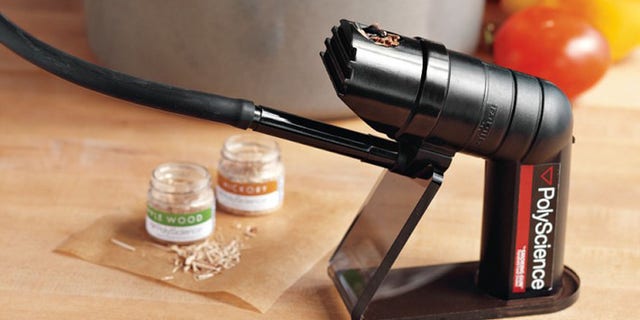 Not so much a barbecue tool as the ultimate flavor enhancer, this indoor smoker gives meats and veggies that super smoky flavor without the hassle of real flames and fire. The compact and lightweight gadget can be used with a variety of spices-- even teas-- to impart out of this world flavor to your favorite foods.
Price: $99.95, Williams-Sonoma
7. Bluetooth BBQ Thermometer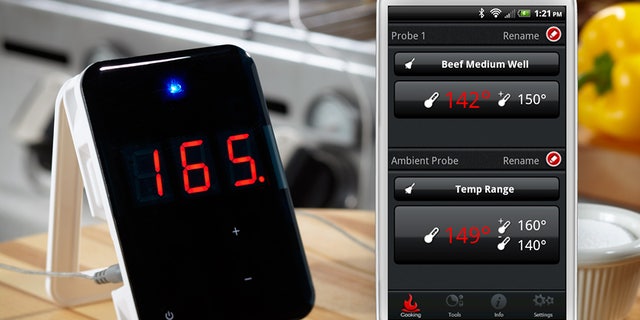 Don't wait around while your feast cooks outside. Simply sync this device to your smartphone and sit back while the temperature rises. The app will even alert you when your food has reached the ideal temp you set on the base station.
8. Lodge Logic Rectangular Grill & Griddle Pan set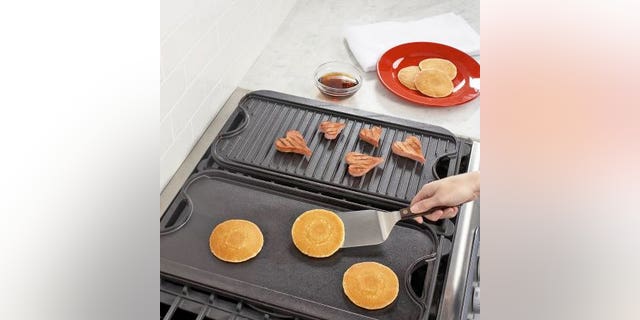 Just because its too cold to grill outside, doesn't mean you can't enjoy those signature grill marks on your food. This grill and griddle pan set can be used year round. Hosting a party? These flat pans will provide a roomier cooking surface for big batch recipes.
9. Grillbots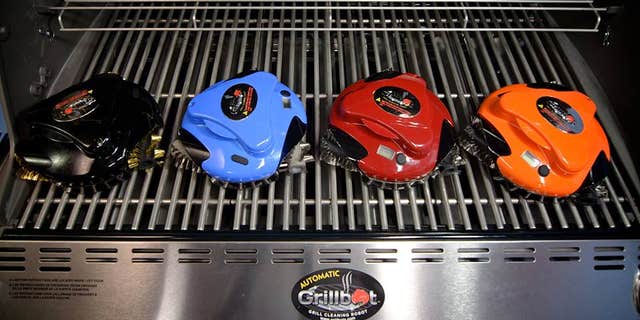 Clean up usually takes the fun out of the whole grilling experience but these automatic robots make scarping down the grates a cinch. These powerful, yet petite, machines come in a variety of colors and interchangable brushes to handle different types of grills.
10. Lynx Downtown Electric Grill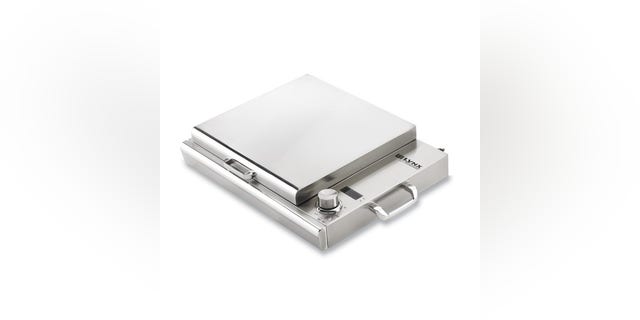 Who says you can only grill outside? Get cooking inside (or outside) with this powerful electric grill that fits right on your countertop. The surface of this petite machine can reach up to 700°F - perfect for searing meats and vegetables just like charcoal. And there's no waiting for heat up time- start cooking in as little as eight minutes.
Price: $1,499.95, Williams Sonoma
11. Taylor Outdoor Pen Thermometer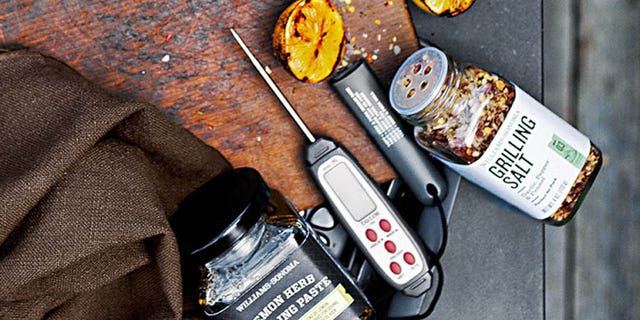 This durable waterproof thermometer will take the guesswork out of determining meat doneness. Unlike traditional temp takers, this sleekly designed model is the size of a standard pen for maximum portability.
Price: $19.95, Williams-Sonoma