Gourmet restaurant for pets opens in Berlin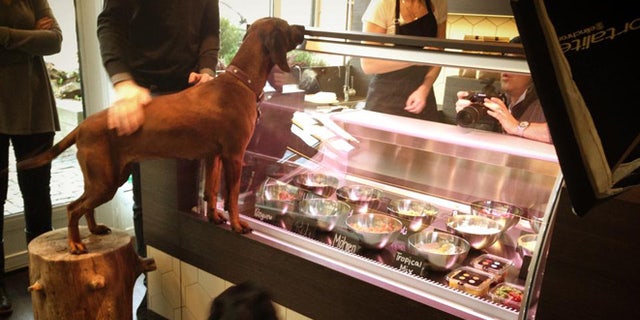 Calling all pampered pets. Five-star dining for your furry friend is now a reality.
Pets Deli, in Berlin's upmarket Gruenewald district, is a new restaurant offering gourmet meals designed specifically for cats and dogs, The Local reports.
The eatery, which opened its doors over the Christmas holiday, serves specialties such as kangaroo meat with broccoli or berries mixed with rice, wheat or other carbohydrates. Items on the menu have been carefully crafted by a pet nutritionist with the highest quality meats and vegetables, says owner David Spanier.
Spanier says he came up the idea for catering to canines and cats when he discovered that his own dog couldn't digest regular pet food from supermarkets.
"Junk food is bad for animals," Spanier told The Local. "It's as if I ate fast food every day. I may like it, but it's very bad for your health."
So just how much will it cost you for your pet to enjoy the finest animal culinary offerings? Dishes range from $4 to $8. But Pets Deli isn't just going to the dogs. Pet owners can treat themselves to a coffee while their furry friends chow down beside them.
For pets on the run, a doggy bag--of course-- is available.