Man eats out of dumpsters for a week to highlight food waste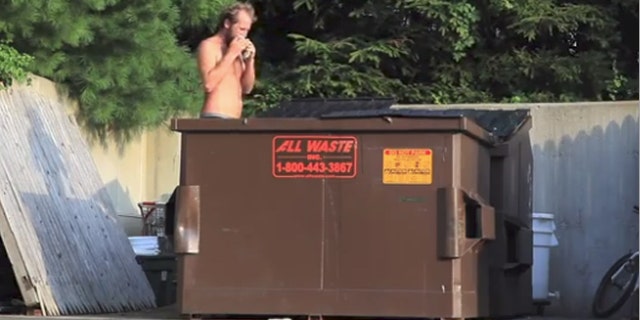 Ever heard the saying "one man's trash is another man's treasure?" Well, how about "one man's trash is another man's dinner?"
This week, in an attempt to spread awareness about the issue of food waste in the U.S., environmental activist Rob Greenfield will be eating all of his meals from dumpsters.
The San Diego resident has stocked his fridge with about $200 worth of fruits, vegetables and carbs that he collected from local supermarket dumpsters.
"Some people will call it nasty, it's just a matter of perspective," the 27-year-old told Fox 5 San Diego.
Greenfield made headlines this past summer when he traveled around America on his bicycle, eating 280 pounds of food from dozens of dumpsters.
The purpose of his trip was to highlight the same issue he takes on this week, food waste in America. According to the National Resources Defense Council, Americans consumers and grocery stores, throw away roughly $165 billion worth of food every year.
To cap off his week of eating from dumpsters, Greenfield is hosting a dinner party on Friday in San Diego. The meal will consist entirely of trash.
"It's a classy affair, so come looking good and ready for some delicious dumpster food," Greenfield posted on his event page.
For more information about the meal, visit the event's Facebook page.