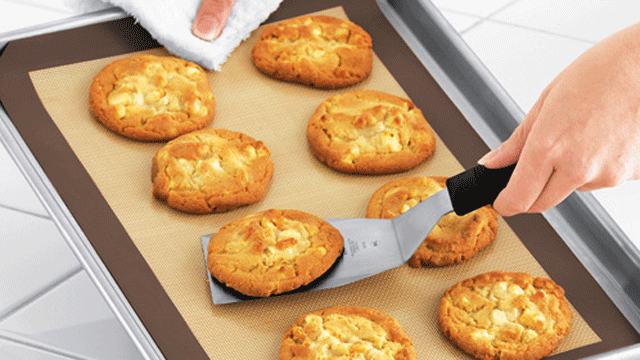 Does that special someone in your life love to spend time in the kitchen making sweets and treats? Does just the thought of trying to find them the perfect gift make you dizzy? Our Baker's Holiday Gift Guide is here to help.
Whether you need to find a show-stopping gift, stuff a stocking or assemble a gift basket, our guide has something for you.
KitchenAid Stand Mixer
If you are in the market for the ultimate show stopping bakers gift, then look no further. The KitchedAid Stand Mixer is quite possibly the most coveted item amongst home bakers. Created to bring the power of commercial baking into the home, this is the ultimate personal kitchen appliance. The stand mixer comes in a dizzying array of models, colors and price points. Are you looking for a professional model in black with flames up the side for making bread dough? No problem. Or maybe your special someone would prefer cotton candy-pink with a glass bowl for mixing up cupcake batter. Yes, they make that too. The KitchenAid Stand Mixer can be found at any kitchen supply retailer or online and sell for between $250.00 - $700.00 (depending on the model).
Silpat Non-Stick Baking Mat
Nothing will ruin a great recipe faster than having it stick to the pan. The Silpat, the original silicone non-stick baking mat, is a must have for any home baker and will insure cookies slide off the sheet with ease every time. Made in France, it comes in an array of shapes and sizes and can be used thousands of times. All it needs is a quick rinse in the sink and it's ready to be used again. The Silpat will eliminate the need for greasing, parchment paper and messy clean-up. The Sliplat can be found at most baking supply retailers and sells for anywhere between $9.99 - $24.99.
Nielsen-Massey Madagascar Bourbon Pure Vanilla Extract
Any baker worth their salt will tell you that using imitation vanilla extract is a cardinal sin. They're right. Imitation vanilla extract does not have the same full flavor and aroma of pure extract and can leave a metallic after-taste. There a are dozens of brands to chose from, but one of the best out there is Nielsen-Massey Madagascar Bourbon Pure Vanilla Extract. Just to clarify, this is not bourbon as in whiskey, but instead refers to a particular type of vanilla plant cultivated on Madagascar's Reunion Island. Often referred to as the king of vanillas, it's creamy sweet flavor blends with a variety of foods. No bakers pantry, or gift basket, should be without it. Nielsen-Massey vanillas (and other extracts) can be found in specially baking stores or online and retails for between $9.99 - $19.99.
All-Clad Stainless Steel Measuring Cups
Not all measuring cups are created equal. Consider the All-Clad version of this kitchen staple and gift worthy upgrade to a bakers tool chest. Each measuring cup is a miniature version of the world famous All-Clad saucepan. Made from heavy gauge stainless-steel, these cups are able to withstand all types of kitchen abuse, including heat and dishwashers. The standard measure cups come 1/4, 1/3, 1/2 and 1 cup sizes. They are also available in the odd-measure sizes of 2/3, 3/4, 1 1/2 cup. You can find these at finer retailers and specialty stores and sell for approximately $40/set.
Microplane 40020 Classic Zester/Grater
Now here is a stocking stuffer with purpose. For fluffy perfect zest every time, nothing gets the job done like this microphone grater. Easy to handle, it effectively zests oranges, lemons, limes in no time and can be used to grate ginger and any hard cheese. The Microplane Zester/Grater is arguably one of the most useful gadgets one can have in their kitchen and can be found in any kitchen supply retail store. Price: $12.95.
Mauviel M'passion Copper Egg White Beating Bowl
Looking for a gift that has show-stopper quality, whimsy and usefulness? The Mauviel M'passion Copper Egg White Beating Bowl is the perfect gift for the baker that has that edge of sophistication and can appreciate quality when they see it. This unlined cooper bowl is ideal for beating egg whites because cooper reacts with the whites making them more stable. Mauviel, manufactured in France, has been making the highest quality cooper cookware since 1830 and is beloved by both professional chefs and home-cooks alike. The egg white beating bowl can be found at specialty retailers and sells for between $94.00 - $171.00 (depending on size).
Sur La Table, Platinum Professional Bakeware, 7 Piece Set
This is the perfect gift for the home baker that is just starting out or is a skilled proficient. Everyone needs a fantastic durable set of bakeware. The Sur La Table set offers superior heat distribution, strength, resistance to warping and is coated with eco-friendly non-stick silicone that is specially formulated for baking and contains no PTFEs or PFOAs. The set includes two 9" round cake pans, one 8" square cake pan, one 9" x 13" cake pan, one 9 "x 5" loaf pan, one standard 12 ct. muffin pan and one 14" x 18" baking sheet. This set can be found at SurLaTable.com and retails for $149.95.