French butchers seek government protection from 'militant vegans' accused of vandalizing shops, causing 'terror'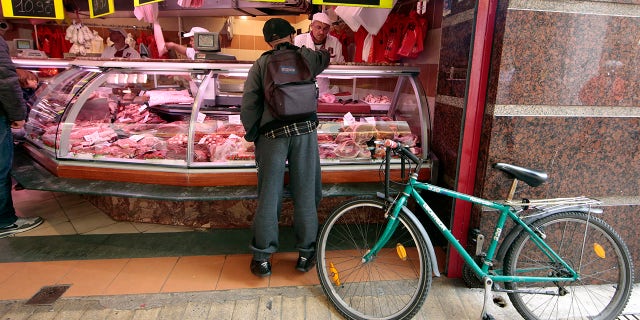 French butchers have no patience for beefs with "militant vegans," and have asked the government for protection from the "terror" of animal rights activists, who they believe are vandalizing their shops.
On July 18, NPR reported that continued instances of "hardline" and "militant vegans" allegedly defacing butcher shops across the country with fake blood, abusive graffiti and broken windows prompted the president of the French Confederation of Butchery, Butchers and Delicatessen to request government intervention.
According to the BBC, over 15 shops have been attacked in such a way through the last few months.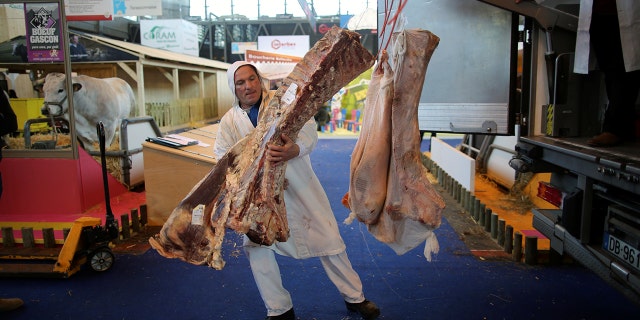 ALEC BALDWIN CHASED BY WAITRESS WITH CHECK AFTER DINING AT HOLLYWOOD RESTAURANT
"In France your butcher is someone you go to like your doctor. It's personal," group president Jean Francois Guihard told NPR. "And the heart of any French village or town is the baker, the butcher and the café. If we don't have these small businesses, the social fabric will be gone. Amazon is nice, but it isn't everything."
"It's terror that these people are seeking to sow, in their aim of making a whole section of French culture disappear," he continued, declaring that the country's 18,000 small butchers are the backbone of the French economy.
Guihard further cited a March tragedy at a grocery store in Trebes, France, during which an armed extremist killed a police officer and the store's butcher in an act of terror. Soon after the news broke, a vegan was given a seven-month sentence for praising the death of the butcher online, "because he was a murderer, too," NPR stated.
Moving forward, French officials have agreed to meet with the butchers from various regions to address the issue.
Meanwhile, a representative for a major vegan organization in France told NPR that her group would never carry out, let alone condone, such actions.
FOLLOW US ON FACEBOOK FOR MORE FOX LIFESTYLE NEWS
"We don't attack butchers, we carry out investigations by putting hidden cameras in slaughterhouses and documenting things like baby chicks being ground up and other cruelties," Brigitte Gothiere of L214 said. "We try to show the reality of how animals live and die while being raised, transported and slaughtered."
This isn't the first time the controversial issue has made headlines in recent months. In March, a Toronto chef made headlines for carving up a deer leg in full view of vegan protesters outside his restaurant.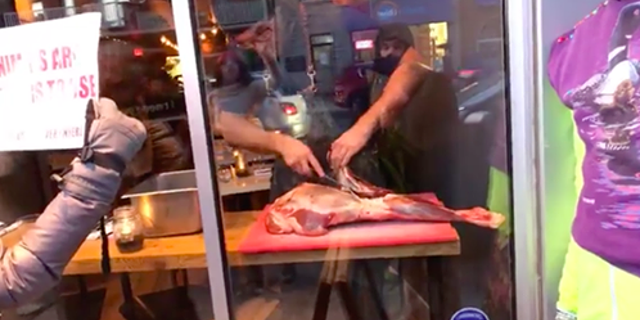 "I just kind of snapped," Antler Kitchen and Bar chef Michael Hunter recalled of his impromptu decision. "I thought, 'I'll have my own sort of protest.'"