Fast-food restaurants replacing teen workers with senior citizens: report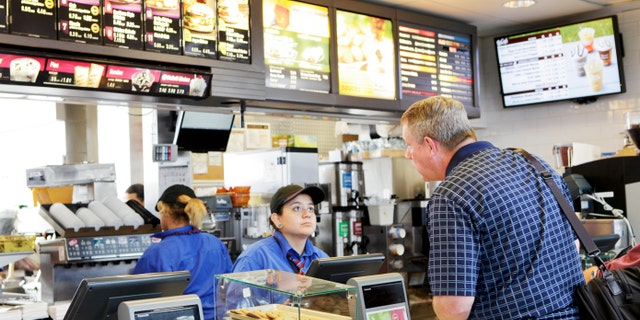 Step aside, teens — senior citizens are the hot new fast-food recruits.
As Americans live longer and the job market stays competitive, cheap eats chains are increasingly recruiting from senior centers, churches and aging advocacy groups like AARP, Bloomberg reports.
And it's not just mortality and economic trends driving the shift. Seniors have more polished social skills — whereas teens are stunted from growing up online with fewer real-world interactions.
BURGER KING SLAMS KANYE WEST OVER TWEET ABOUT MCDONALD'S
"A lot of times with the younger kids now, they can be very disrespectful," 63-year-old Church's Chicken manager Stevenson Williams tells Bloomberg of his teen co-workers at the North Charleston, S.C., restaurant.
"You have to coach them and tell them this is your job, this is not the street," Williams says.
Having "soft skills" such as politeness often comes more easily to members of the Silent Generation, who have had a lifetime of experience in the workforce to learn how to treat customers compared with their millennial or Gen Z counterparts.
Employers thus get a more mature worker at no additional cost — but the reasons for seniors outpacing teen hires are many.
MCDONALD'S TESTING 'ULTIMATE' CHICKEN MENU ITEMS IN WASHINGTON STATE
The U.S. Census Bureau reported this year that, by 2035, there will be more Americans over age 65 than there are children under age 18.
Plus, fewer people in their prime are working — thanks to the opioid epidemic, mass incarceration, and unaffordable child care that forces many parents to stay home, according to a joint study by Princeton University and the Brookings Institution, a Washington, D.C., think tank.
The U.S. Bureau of Labor Statistics forecasts the number of American workers aged 65 to 74 will swell 4.5 percent by 2024, while the 16-to-24 demographic could shrink 1.4 percent.
By 2024, the BLS projects the labor force will grow to about 164 million people. That number includes about 41 million people ages 55 and older— about 13 million of those are expected to be ages 65 and up.
So don't be surprised to see even more service with a smile — and silver hair — in that drive-thru lane.
FOLLOW US ON FACEBOOK FOR MORE FOX LIFESTYLE NEWS
This article originally appeared in The New York Post.