Eva Longoria spills Wendy's secrets for a perfect burger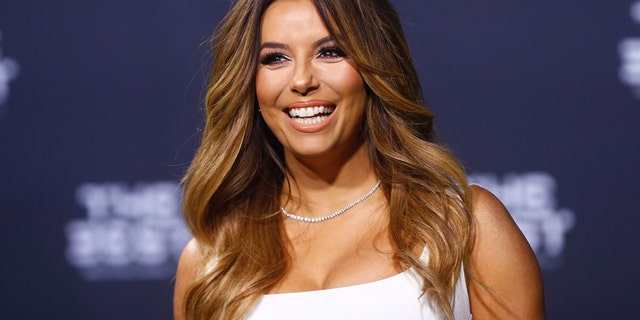 In celebration of National Cheeseburger Day — which fell on either Sept. 15 or Sept. 18, depending on who you ask — actress and producer Eva Longoria appeared on "The Rachael Ray Show" to divulge some burger-prepping secrets from her three years of employment at Wendy's as a teenager in Corpus Christi, Texas.
"I loved working there," she told Ray of her time as a burger flipper, and agreed with Ray's recommendation that everyone should work in restaurants at some point of their lives.
MODEL GOES FROM CHIPOTLE TO RUNWAY IN 10 DAYS AFTER BEING DISCOVERED
For the "Desperate Housewives" alum, sequence is key. "What we learned at Wendy's was mayonnaise goes on the bun first, to seal the bun, so the bun stays nice," Longoria said. "Then you put the ketchup. And mustard goes on the meat, because it brings out the flavor of meat," she added.
And when it comes to making a delicious burger for herself, Longoria can't go without one finishing touch: jalapenos.
KATE HUDSON USES WINE INSTEAD OF WEIGHTS FOR HER WORKOUT
Though the A-lister was a young high school student when she got hired by the fast-food chain, she had serious ambition — for a very special reason.
"I wanted to have a Quinceañera when I was 15 and my family didn't have the money, so I got a job at Wendy's and paid for it myself," Longoria told Redbook in a December 2016 interview.
"There was never any resentment, because I saw how hard my mother worked and all she did for my sister [with special needs], and I wanted to do whatever I could to help. We all did."
Longoria also famously referenced her tenure at Wendy's during her speech at the 2012 Democratic National Convention. Coming out against Mitt Romney's tax plan, Longoria stated, "The Eva Longoria who worked at Wendy's flipping burgers — she needed a tax break. But the Eva Longoria who works on movie sets does not."
FOLLOW US ON FACEBOOK FOR MORE FOX LIFESTYLE NEWS
Along with Longoria, stars such as Madonna to Rachel McAdams and J.J. Watt have credited their humble beginnings in fast food to their strong work ethics, People reports.