Domino's launches wedding registry for pizza-loving couples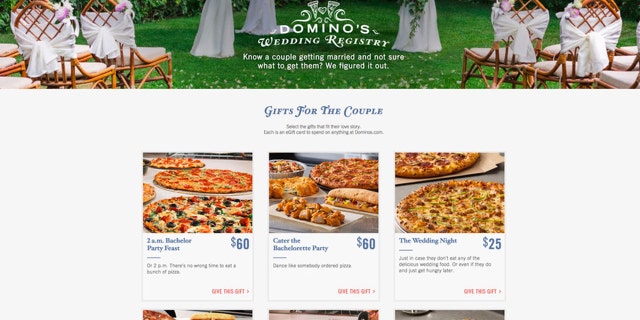 Forget the fine china from Tiffany's. And who needs towels from Bed Bath & Beyond?
Domino's thinks warm, delicious pizza will make the perfect wedding gift-- and keep the marriage spark alive.
The nation's second-largest pizza delivery chain has just launched a wedding registry site that allows couples to order the pie of their dreams.
"Valentine's Day is right around the corner, so we wanted to give recently-engaged couples that are passionate about pizza the chance to register for something they both truly love as much as their partner," company spokeswoman Jenny Fouracre said in a statement.
FOR THE LATEST FOOD FEATURES FOLLOW FOX LIFESTYLE ON FACEBOOK
The registry, says Domino's, "aims to bring couples together over their shared love of pizza." Fouracre says the idea was born from customers who said pizza played a big part in their big days.
So are you ready to register?
Upon visiting the site, registrants can select their gifts, then share their edible wish list with family and friends on social media. And similar to more traditional registries, wedding guests can also search for a couple by using the names and wedding date of the soon-to-be newlyweds.
Unlike that $140 ladle, pizza is something Domino's says most people will want to enjoy over and over again.