Deleted scene from 'The Interview' shows Guy Fieri's attempts to solve the Israeli-Palestinian conflict with falafel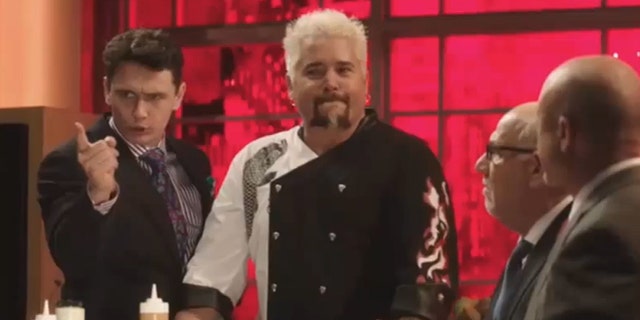 NEWYou can now listen to Fox News articles!
Guy Fieri may be the self-proclaimed Mayor of Flavortown but does he have the political chops to bring world peace in the kitchen?
In a deleted scene from James Franco and Seth Rogen's controversial comedy "The Interview," the spiky haired chef whips up a Middle Eastern specialty for the characters who played the prime minister of Israel and president of Palestine.
Talk show host Dave Skylark, portrayed by Franco, wants to talk world peace on his program and wants to give his guests a "spicy and tangy falafel with chipotle sauce."
"This is juvenile!" the fake Israeli Prime Minister exclaims. "You cannot bring peace to the Middle East with a sandwich."
But both world leaders eventually try the falafel and seem to enjoy it, nodding their heads in agreement. Peace in Flavortown? The scene of course ends with a signature Fieri line.
The scene didn't make it into the final cut but is featured in the deleted scenes on the Blu-ray/DVD.
Check the clip below and see if you think this should have made the final cut.