Conor McGregor announces he'll 'take over Irish whiskey market' with signature brand
Conor McGregor's next business venture will pack a pretty powerful punch.
Following his much anticipated professional boxing debut on Saturday night, the Irish mixed martial artist announced the upcoming release of his very own brand of "Notorious" Irish whiskey.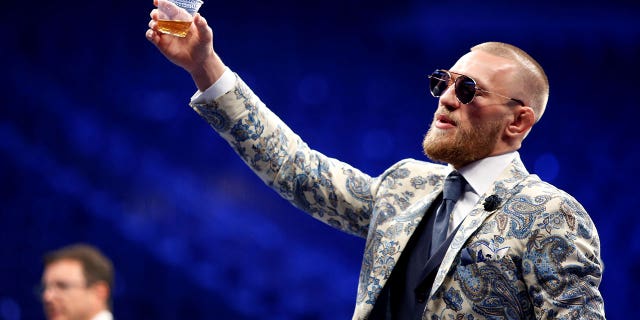 During Sunday morning's post-fight press conference — and directly after Floyd Mayweather brought him up to the podium — McGregor sauntered out onto the stage with a glass of whiskey in one hand and a bottle in the other.
CHINESE TOURIST PAYS $10K FOR FAKE SHOT OF WHISKEY
After shaking hands with Mayweather, his victorious opponent at Saturday's fight, McGregor greeted the press and then immediately brandished the bottle for all to see.
"[Let me] put my whiskey down — Notorious Irish Whiskey — coming soon," he said.
McGregor then began recounting the fight (or "rattle[d] on," as he described it), all the while raising his glass of whiskey to Mayweather, whom he described as a "true champion" and "a hell of a competitor."
At one point, McGregor even stopped to take a sip of his Notorious whiskey, remarking to himself, "Boy, that whiskey tastes so good. Oh s---. Notorious Irish Whiskey, coming soon."
WATCH CHANNING TATUM DELIVER VODKA TO UNSUSPECTING DRINKERS
McGregor made sure to mention his whiskey venture when discussing his post-fight plans, as well. Though he admitted he's "not quite sure" what he plans to do after the Mayweather fight — whether it be more boxing or straight UFC — McGregor made it clear he has high hopes for Notorious.
"I'm going to take over the Irish whiskey market," said McGregor, The Sun reports. "And this is delicious, so keep an eye out for it."
FOLLOW US ON FACEBOOK FOR MORE FOX LIFESTYLE NEWS
McGregor did not specify when or where Notorious-branded whiskey will be available, but it's not the first time the MMA fighter has ventured out of the ring to supplement his paycheck. In July, he announced plans to launch a clothing line with California-based designer David August, to be called August McGregor.
"I love fashion and I get to design clothes. It's like fighting, it's all about the small details," he said, reports Business Insider.