Church spreads the gospel of healthy eating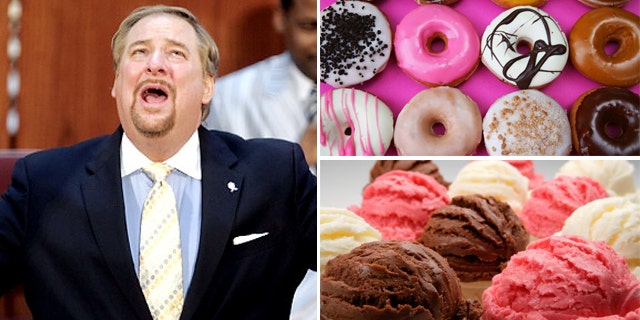 In case you haven't heard, the original seven deadly sins may just have increased by a few vices. In addition to wrath, greed, sloth, pride, lust, envy, and gluttony, you can add bacon, sausage, ice cream and donuts to the list. That's according to neuroscientist and bestselling author Dr. Daniel G. Amen.
"A couple of years ago I came up with the idea that churches were sending people to heaven early because of all the food they served at church functions, like bacon and sausage and ice cream and donuts," Dr. Amen, who is a Christian and a graduate of Oral Roberts University Medical School told FoxNews.com. "I have been going to church since I was a little boy and the food in churches is just outrageous."
The doctor, who is also the author of the book, Use Your Brain to Change Your Age (Crown), says that he prayed for guidance on how to help change the health of churches.
He got his answer in mega church pastor Rick Warren. Warren, pastor of California's massive Saddleback Church, who out of the blue called Dr. Amen weeks later and said he wanted to find a way to help his parishioners eat more healthfully.
Together they created an A-list cast of experts, including TV host Dr. Mehmet Oz and fitness guru Billy Blanks, to develop what they call the Daniel Plan, named for the prophet in the old testament of the bible who refused to eat the king's unhealthy food and demanded instead that he be fed only water and vegetables for 10 days. According to Amen, the prophet came out of the challenge looking pretty great.
The basics of the plan are simple: replace donuts with fresh fruit, nuts or oatmeal; reward children stickers or healthy treats instead of candy and cookies; replace vending machines containing poor choices, with healthy snacks; change the habit of serving fatty foods at gatherings; enlist a small group, or workout buddy, to join you on a healthy journey.
Recommended food includes things like whole grains, beans, fresh herbs and grass finished meats--even dark chocolate. See more here. Recipes are simple and filled with fresh ingredients.
Recipes recommended by the Daniel Plan
With these rules Amen and Warren are now trying to whip religious congregations into shape. For the past 18-months Warren has asked that all of his Saddleback churches --which includes a network of 300,000 churches all over the globe -- implement the Daniel Plan. And if a pastor leads through example, Warren himself has lost more than 60 pounds.
"That part was important. Church leaders need to start by setting a better example and the only way to do that is to live the message," Amen said. "At the same time I was working with Saddleback I was in the middle of a big NFL study. I told Warren that I was tired of fat football coaches and fat pastors because they have to lead by example."
Warren and Amen are prepared to spread the gospel of healthy eating worldwide.
"There is a plan to export this globally. We already have a church in Hawaii doing it and Saddleback is planning on opening 12 international churches in the next 18 months and we will plant the Daniel Plan in each of those churches," Amen said. He added that he can see a clear difference in the food served in Saddleback churches since they enacted the plan.
"They have replaced about half the food in the vending machines and the donuts are not the first thing you see. When I bring my daughter to children's church they aren't giving her cookies. They are giving her a tangerine. They aren't perfect but they're a good model," Amen said.
Amen and Warren aren't the first to wage a war against unhealthy eating. Over the years, the national debate on government-mandated healthy eating has intensified. Foods high in saturated fat and sodium have been targets of leaders, such as New York City Mayor Michael Bloomberg who helped push through the city's ban on trans-fat foods in its restaurants and bars a few years ago, and is now prohibiting high-calorie food donations to city-run homeless shelters.
While some claim this is just another case of the food police at it again, experts say good models --not government mandates-- may be all that Americans need to get healthy, particularly models who are imbued with some kind of spiritual authority.
According to Dr. Brian Wasink, author of Mindless Eating: Why We Eat More Than We Think (Bantam) and the director of the Food and Brand Lab at Cornell University, religious leaders can have a powerful impact on the eating habits of their parishioners.
"Church leaders have a very powerful influence because in a lot of cultures faith and food are very inextricably linked. Within faith communities you have a lot of pot lucks and extracurricular activities that include food. We have found that when the pastor decides to have a talk about healthy eating it has a very powerful impact on the churches because they rely so heavily on their advice," Wasink said. "The pastors are these high-powered opinion leaders that are supercharged because they are also trusted with someone's faith."
Food psychologist Dr. James Painter believes that that friends and family have an even greater influence over how we eat than our religious figureheads.
"The number one way we make a decision where to eat what to eat is a friend or family member," Painter said. "We say it is media and restaurants but research tells us it is based on what the people right next to you are saying."
That's why the secret sauce of the Daniel Plan, and what Amen sees as the most coercive portion of the regimen is the fact that it encourages church-members to meet in small support groups, not dissimilar to what Weight Watchers has been doing for years, to help one another through their dietary adjustments.
The Daniel Plan even has its own website where church members (or anyone who wants to sue the plan to change their eating habits) can track their progress and get tips and tricks for continued weight loss.
"I love this idea of getting the world healthy through houses of worship," Amen said. "If your body isn't right then your brain is not right then your soul is not right and you are more likely to be sinful and not as thoughtful and loving."