Chick-fil-A manager gets swindled out of cash in crazy phone scam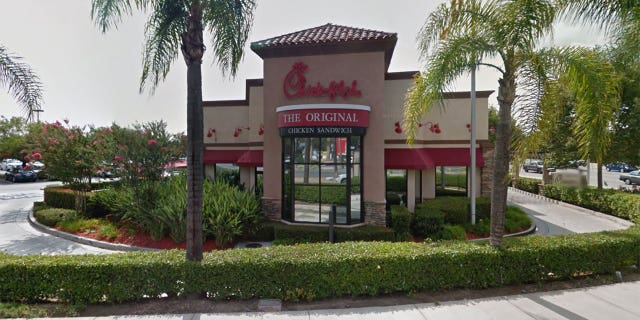 A Chick-fil-A manager in Chino Hills, Calif., was robbed of some cash — and maybe a little dignity — on Thursday of last week.
According to a police report, the Chick-fil-A manager received a phone call from a man claiming to be the chief executive officer of Chick-fil-A sometime around 6:15 p.m., the Press-Enterprise reports. Over the phone, the phony CFO then claimed that the franchise operator of the Chino Hills location owed money to the corporate office.
CHICK-FIL-A PATRONS TRASH RESTAURANT AFTER ARGUMENT WITH STAFF
At the thief's request, the manager collected and counted the cash from the restaurant's registers and safe. The manager was then instructed to drive to nearby convenience stores to purchase Green Dot pre-paid debit cards with the cash, and to read off the serial numbers to the "CFO" on the phone.
It's unclear exactly how much cash the manager spent on those debit cards, but the Press-Enterprise reported that he drove to "several" different convenience stores to obtain the cards.
The franchise operator has since stated that he is working with the authorities.
"There is a pending investigation on an incident that took place at Chick-fil-A Chino Hills," said Chick-fil-A franchise owner and spokesperson David Dinasan in a statement obtained by Fox News. "We are cooperating fully with the local police department and, because it is an open investigation, we cannot comment further at this time.
CHICK-FIL-A DEBUTING NEW MEAL DEALS AT SELECT LOCATIONS
A customer of that Chick-fil-A location also told CBS Los Angeles he's not surprised by the theft.
"It's just like all the telephone scams that happen with the elderly and so forth," said Jim Doyle. "It's tough."
Not everyone was as understanding as Doyle, though. After news of the theft made its way to Facebook, social media users began bashing the Chick-fil-A manager who fell for the scam — some of them even questioning whether it was an inside job.
FOLLOW US ON FACEBOOK FOR MORE FOX LIFESTYLE NEWS
The Chino Hills Police Department is urging anyone with information related to the robbery to call its WeTip hotline at 800-782-7463.