Bill Cosby-themed drink with pills stirs controversy, prompts apology from DC bar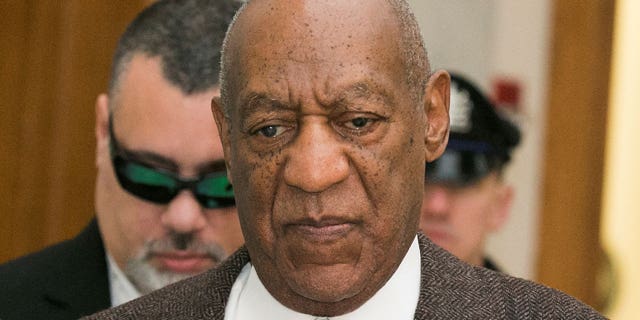 A pop-up bar in Washington D.C. is pulling its controversial "Pill Cosby" cocktail from the menu following an outcry on social media and backlash from locals.
On Monday, the owners of Diet Starts Monday, the watering hole/restaurant/retail shop that served the cocktail, has since apologized and promised to show better judgment in the future.
The drink itself — a tequila and hibiscus cocktail garnished with empty pill capsules — takes its moniker from disgraced comedian Bill Cosby, who has been accused of drugging and sexually assaulting dozens of women over the course of his career. But according to Washingtonian, which spoke with Diet Starts Monday co-owner Davin Gentry prior to the backlash, the drink was originally intended to educate customers on the dangers of druggings at drinking establishments.
"It lets people be a little more aware," Gentry told the Washingtonian.
THERE IS A LITERAL PIECE OF HISTORY IN EACH COCKTAIL UMBRELLA
On Monday, however, Gentry and co-owners John Geiger and Kevin "Scooty" Hallums reportedly changed their tune, and issued an apology after a crop of Twitter posts took the bar to task over the drink.
The bar's Yelp page, too, has been overrun with negative reviews, with Yelpers accusing the establishment of being misogynistic and profiting from rape jokes.
"I'll spend my money at places that don't think the thing that almost took my life from me and robbed me of my ability to feel pleasure, happiness or love a funny pun and a prop gimmick," wrote one Yelp reviewer named Phena L.
Another Yelper by the name of Miranda W. has urged people to stop patronizing Diet Starts Monday, adding that she is "looking forward" to the day it goes out of business.
DRINKING AT THE DENTIST'S OFFICE MIGHT SOON BE ILLEGAL IN TEXAS
However, Diet Starts Monday does have a handful of supporters on Twitter who — while they don't exactly defend the bar — claim there are bigger issues to worry about.
The eatery issued a formal apology on Monday evening, writing on Twitter that the drink was "a mistake" that "will not be made again."
"This drink was a one-time item — its inclusion as an offering of ours was in poor taste and we've taken all necessary steps to ensure it won't happen again," reads the apology. "We take full responsibility and apologize to anyone we offended. The allegations against Mister Cosby are serious and we in no way intended to make light of the pain surrounding his behavior. We rely on our community to help us guide everything we do. We appreciate all the feedback. This was a mistake, it will not be made again. We are sorry.
FOLLOW US ON FACEBOOK FOR MORE FOX LIFESTYLE NEWS
The owners of Diet Starts Monday are also claiming they have reached out to community leaders for guidance and "to teach us how to be better."
Cosby, meanwhile, is currently in the midst of jury selection process for his trial, for which he stands accused of drugging and sexually assaulting former Temple University basketball manager Andrea Constand in 2004. Cosby has claimed that the sex was consensual.