Best food trucks in America 2012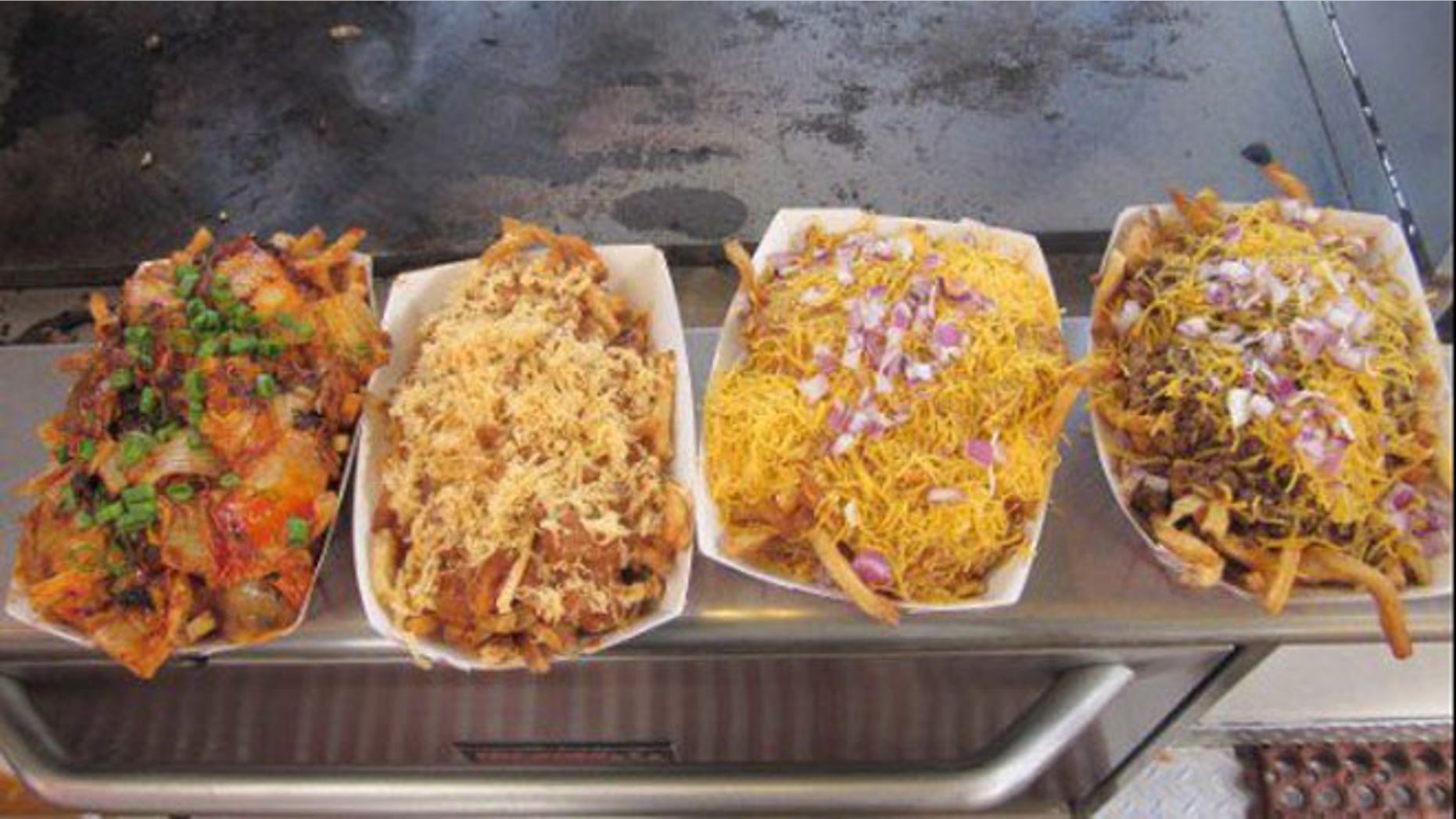 Once the purview of immigrant cooks, food trucks are now often art-designed and run by culinary school grads, celebrity chefs, and even aspiring stars with no culinary cred. Their quirky names pun on sexual innuendo, they serve food (often fusion) to go, they've lowered the financial bar for becoming a restaurateur, and have helped make the everyman and woman, critics. A year ago, editorial pushback on the trend indicated a peak. Instead, it increased twofold over the past two years in cities like St. Louis and Boston, while on tested asphalt in Los Angeles and New York, its presence strengthened; Restaurant Reporter approximated that there were more than 6,000 food trucks in Los Angeles County alone as of 2011. No, food trucks are here to stay, many serving terrific grub — enough to merit determining America's best.
How does the popularity of food trucks break down by the numbers? According to Smart Money, trucks accounted for 37 percent of the $1.4 billion in street vending revenue nationwide last year — a 15 percent increase over the past five years. That revenue uptick was not without obstacle; the same report noted that according to the Food and Drug Administration, more than 2,000 different state and local agencies in America are responsible for inspecting food trucks.
There's quite a bit that trucks have to overcome. New Orleans, for example, requires mobile food vendors to change locations after 45 minutes in one spot. Among other restrictions, Chicago's food trucks have had to fight to cook onboard, Washington, D.C.'s are technically supposed to vacate once their line of clients clears, LA's have to park within 200 feet of a bathroom where workers can wash hands, New York's got booted from Midtown, and in cities like Atlanta and Austin, where trucks have largely been relegated to group parks, even those sometimes face shutdown.
Other obstacles are brick-and-mortar establishments, who claim trucks feed on their customers. You'd think they could coexist, but let's offer three points:
• Competition breeds better restaurants. Worried about competition? Don't lower prices. Create better food and service. You have a roof, a walk-in, and a staff. Shouldn't you be able to do this?
• Make customers feel more valued or that they're getting more value.
• Having walls doesn't entitle you to business.
And hey, trucks pull their weight. As Gourmet noted, in the aftermath of Hurricane Katrina, taco trucks sprang up in NOLA "providing sustenance for New Orleanians who were too busy rebuilding their businesses, homes, and lives to cook, and for the influx of Mexican immigrants who came to fill the huge need for construction labor." And in New York City, the food truck association sent an armada of them to donate food in different parts of blacked-out Manhattan and the Rockaways after Hurricane Sandy. And their popularity is only going to continue to grow as they mainstream with shows like Food Network's The Great Food Truck Race and food truck events at festivals in South Beach and New York City crowning event winners.
Organizations like The Street Vendor Project have expanded from New York City to Philadelphia and Los Angeles, establishing a somewhat incomplete hierarchy with awards like the Vendy's. But surprisingly, nobody's established a concrete ranking with much foundation. There have been best lists, of course, roundups highlighting a handful of trucks in individual cities, and a few scattered nationally. These are good places to begin. They feature innovative cuisines and showmanship of some special trucks. But they don't tell the whole story, often include street carts, aren't that geographically diverse, and for the most part, don't indicate much in the way of methodology.
So who should be counted among America's best food trucks?
To come up with a comprehensive pool of candidates we canvassed more than 30 cities, seeking out some 300 street vendors. To those we added staff favorites, and any trucks not already included that have been singled out for praise by organizations, and national and local publications, both in print and online.
First, a few notes. This is a list of food trucks. Only trucks were considered. If it was a trailer, or a cart, if it needed something to pull, drag, push, or carry it, if it wasn't on at least four wheels and didn't have the ability to move on its own power from parking ticket to parking spot, it was omitted. Sorry, Pizza Moto. That means you, Grillwalker types. Apologies, Portland's street food scene. You may serve great street food. You probably even deserve a list. But you're not food trucks.
Also, this is a list of food trucks. While a few dessert trucks ranked, they were the exceptions. If you just make cupcakes or serve coffee, you're not a food truck — you're a cupcake truck, or a coffee truck. That doesn't mean you're bad people. Nobody disputes the challenges of creating innovative desserts for mobile distribution, but with rare exception it didn't seem fair to include trucks serving shaved ice, slushies, and ice cream with those doing full savory menus. You're beloved during summer, but for these purposes? Discounted. The same went, mostly, for an integral component of the business model: social media. Not engaged with Twitter, or at least Facebook? Gonzo.
These factors eliminated quite a few contenders. Even so, it left at least a good 270 food trucks for consideration. These were judged on four criteria: popularity, critical review, social score, and originality.
We consulted popular review sites and tallied reviews and critical appraisal. We analyzed trucks' number of followers and in cases where there wasn't a Twitter presence, considered visibility on Facebook. For originality, we examined menu innovation, concept, concept relative to inception (to wit, Asian tacos have become about as original as truffle oil fries, or a beet and goat cheese salad), and how that all might play into geography.
What did we discover? The best of the best. How did they rank? You'll have to peruse the list, or watch the slideshow for specifics, but it's interesting to note that Kogi's birthplace of Los Angeles lead all cities with 18 trucks. San Francisco, New York, and D.C. were runners-up with 13, 11, and eight respectively. Asian fusion, tacos, burgers, sandwiches, pizza, and lobster, were predictable leaders, but there are some impressive chef-y menus, too.
From sexy babes serving gooey cheese-covered medium-rare burgers amongst palm trees and silicone to faux-mustachioed and turbaned Fojol brothers from mythical lands serving butter chicken to those walking the corridors of power, here's the definitive list of the 101 Best Food Trucks in America for 2012, any of which we'd be thrilled to wait in line at for a meal worthy of eating standing up.
101 Best Food Trucks in America 2012
#101 Ebbett's Good to Go (San Francisco)
#100 Happy Grillmore (Seattle)
#99 Pot Kettle Blac (Charleston, S.C.)
#98 The Slide Ride (Chicago)
#97 Tokyo Crêpes (Charleston, S.C.)
#96 Seoul Taco (St. Louis)
#95 Bloomy's Roast Beef (Twin Cities)
#94 Cucina Zapata (Philadelphia)
#93 Hello My Name is BB (Charleston, S.C.)
#92 Vellee Deli (Twin Cities)
#91 Momogoose (Boston)
#90 Sushi Fix (Twin Cities)
#89 Empanada Intifada (New Orleans)         
#88 Seoul Sausage (Los Angeles)
#87 Iyanzé aka "The African Truck" (Chicago)
#86 Foodie Call (New Orleans)
#85 The People's Pig (Portland, Ore.)
#84 Curbside Cravings (Los Angeles)
#83 Cha Cha Chow (St. Louis)
#82 Tacos El Asadero (Seattle)
#81 El Norteño (San Francisco)
#80 CapMac (Washington, D.C.)
#79 Tasty Kabob (Washington, D.C.)
#78 South Philly Experience (Los Angeles)
#77 Solber Pupusas (New York City)
#76 Liba Falafel Truck (San Francsico)
#75 Souvlaki GR (New York City)
#74 Ms. Cheezious Fresh Made Grilled Cheese (Miami)
#73 Streetza (Milwaukee, Wis.)
#72 The Peached Tortilla (Austin)
#71 Rancho Bravo Tacos (Seattle)
#70 Basic Kneads Pizza (Denver)
#69 Marination Mobile (Seattle)
#68 The Eatsie Boys (Houston)
#67 Scratch Truck (Indianapolis)
#66 Diggity Donuts/Little Blue Brunch Truc (Charleston, S.C.)
#65 Rib Whip (San Francisco)
#64 KoJa Kitchen (San Francisco)
#63 Riffs Fine Street Food (Nashville, Tenn.)
#62 Kung Fu Tacos (San Francisco)
#61 The Southern Mac & Cheese Truck (Chicago)
#60 Lucky Old Souls (Philadelphia)
#59 The Big Cheese (Washington, D.C.)
#58 Oh My Gogi! BBQ (Houston)
#57 Biker Jim's Gourmet Dogs (Denver)
#56 JapaCurry (San Francisco)
#55 Taim Mobile (New York City)
#54 The Mighty Cone (Austin)
#53 DC Slice (Washington, D.C.)
#52 5411 Empanadas (Chicago)             
#51 Jefe's Original Fish Taco & Burgers (Miami)
#50 Dim Ssäm à gogo by Sakaya Kitche (Miami)
#49 Pepe Food Truck (Washington, D.C.)
#48 Cêpes Bonaparte (Los Angeles)    
#47 The Grilled Cheeserie (Nashville, Tenn.)
#46 El Camión (Seattle)          
#45 Fivetenburger (Oakland, Calif.)
#44 Vizzi Truck (Los Angeles)
#43 Komodo Truck (Los Angeles)
#42 Nom Nom Truck (Los Angeles)
#41 Luke's Lobster (New York City)
#40 Señor Sisig (San Francisco)
#39 Clover Food Truck (Boston)
#38 Food Shark (Marfa, Texas)
#37 Country Boys/Martinez Taco (New York City)
#36 Fry Smith (Los Angeles)
#35 Coreanos (Austin)
#34 Staff Meal (Boston)
#33 Lobsta Truck (Los Angeles)
#32 Smack Shack (Minneapolis)
#31 Guerrilla Street Food (St. Louis)
Click here to see the rest of the 101 best food trucks in America
More from The Daily Meal 
U.S. Presidents' Favorite Vacation Spots

14 Heartbreak Holidays for Newly Single Celebrities

Travel Like 'Twilight' Star Robert Pattinson

9 Restaurants with Farms