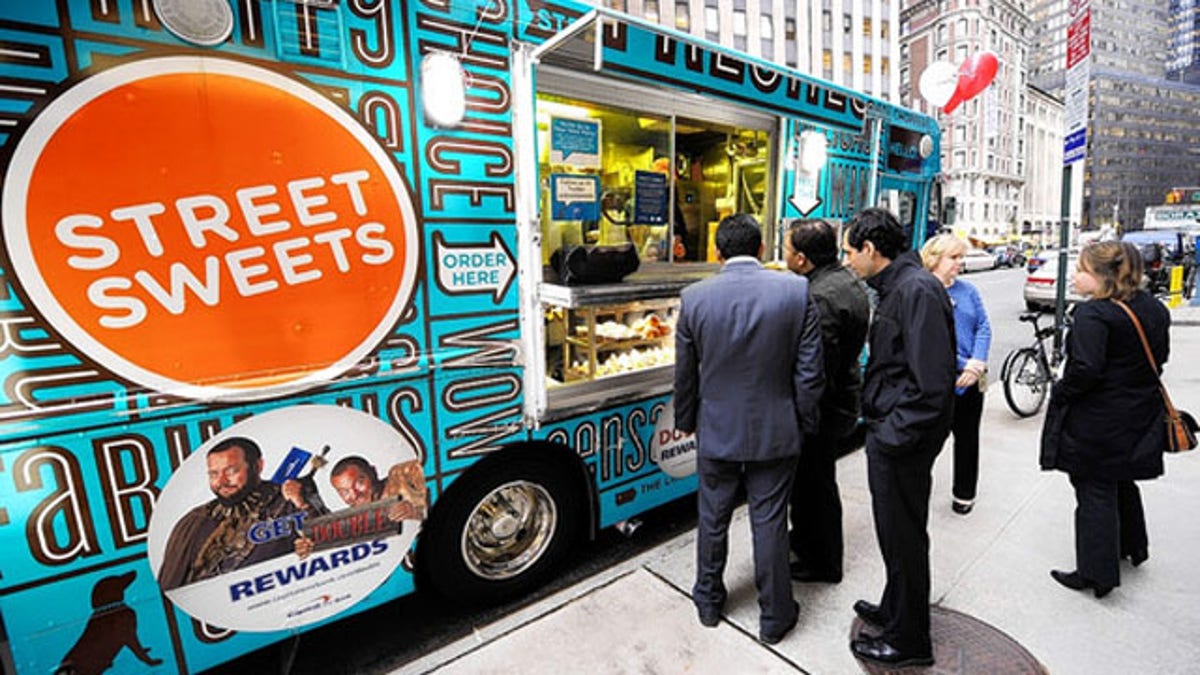 Food trucks have come a long way from hot dog stands with Sabrett umbrellas. Today, the nation's busiest cities boast of an impressive array of gourmet trucks ranging from tacos, to turkey and pulled pork to pie.
National press and shows like "The Great Food Truck Race" have catapulted food trucks from smoggy streets to high society. With few niches left untouched, chances are there's a food truck for you.
The one downside? Winter weather. Brick and mortar stores take a hit in business when the weather is bad, but food trucks get it worse. Being mobile, food trucks are more susceptible to trials and tribulations during the angriest winter months.
Despite the northeastern snow and sleet, Hoboken's Taco Truck stayed open every day during their first operating winter in 2009, which saw some huge snow storms in the New York area.
"The winter of 2009 into 2010, we stayed open every day," Taco Truck CEO, Jason Scott, remembers. "We went out in every snow storm. We were shoveling the sidewalks out so our customers could get to the truck."
He said that winter exemplifies a commitment to great food and even greater service. Employees brought an all-hands-on-deck mentality to work, along with their shovels.
Battling the North East elements is no easy feat, but perhaps even more difficult is the lack of revenue.
"You can't operate a food truck successfully in the winter. I mean you're talking average temperatures under ten degrees. Who's going to be going outside in that?"
"During the winter, we [see] a 50 to 70 percent drop off in business," notes Scott.
To bolster business the Taco Truck ensures speedy service, a regular schedule, and also offers a few warm wintery treats.
"We keep the same amount of people on as we would for busier days, despite the fact that we're doing considerably less business," he explains. "We [also] offer a fantastic soup during the winter, as well as abuelita, our Mexican hot chocolate."
Unlike trucks in or around the tri-state area, a can-do attitude and some hot chocolate are not nearly enough to battle average winter temperature in cities, such as Minneapolis.
"You can't operate a food truck successfully in the winter," admits Turkey to Go owner, Drew Levin. "I mean you're talking average temperatures under ten degrees. Who's going to be going outside in that?"
Instead, Levin closed his truck during its first winter and built a kiosk inside an office building located in downtown Minneapolis. "We did okay, I mean we helped chip away at our fixed overhead… but business wasn't as strong as it was on the food truck," he admits.
Ultimately they did not of renew the kiosk for another winter. Instead Levin and his team opened a brick and mortar to supplement the wintery months.
"We were operating very successfully in season. People were showing there was a great demand for the product. [Our second year] we opened a brick and mortar in Minneapolis so we didn't have to worry about a down season."
Before Turkey to Go became a permanent fixture however, Minneapolis' pioneer food truck employed a bustling catering business to help carry it through winter.
"We have a chef and a general manager, and we have a kitchen that we need to operate and pay year round for. So we've got overhead that we need to cover basically with six month of sales plus whatever we can generate in the winter months," he explains. "Catering in the off season built up a very good steady stream of income in the winter to help us survive."
Sweetery NYC, named one of the four best food trucks in the country only months after their street debut in 2009, also relies on a booming catering business to carry them through the winter months. However, owners Grant Di Mille and Samira Mahboubian also use the nearly 44 years of marketing and advertising experience between them to pitch eclectic and effective marketing events to clients, such as eBay, Lord & Taylor and the Food Network.
"We fully branded one of our promotional trucks to promote the ASME award [the Food Network] had won," Di Mille says of their first event. "Since then, we have done between 45 and 50 experiential marketing events with people like Saks Fifth Avenue and Capital One."
These kinds of events are great promotion for both the Sweetery and its clients. However, there's always a small price to pay for free pastries.
"We did an event for eBay on Black Friday. You come to the truck and you want a free cupcake, no problem, because eBay is happy to give you a free cupcake from the Sweetery eBay truck, but you've got to put their app on your phone, or you've got to like the brand on Facebook, or follow them on Twitter."
Although these events do add to the Sweetery's winter profits, even those opportunities are slimmer during the off season.
"[It does] affect our event business, because even though we've had a couple events during the winter months, few people are willing to risk the challenge of spending $50,000 or more dollars on an event to have it potentially snowed out," Di Mille laments.
Social media, catering, and events and promotions, allow this unique and relatively new business market to continue to flourish and build a loyal fan base even in the offseason. And rain, snow or shine, one idea remains a common thread in the mindset of these food-truck owners and that is a commitment to delicious, well-crafted cuisine.
"We believe in trying to have a high quality product. We believe in the value add of the product. We think our product rests on its laurels to a certain extent, [because] it's great quality," concludes Di Mille.