Bakery creates a turkey doughnut for Thanksgivukkah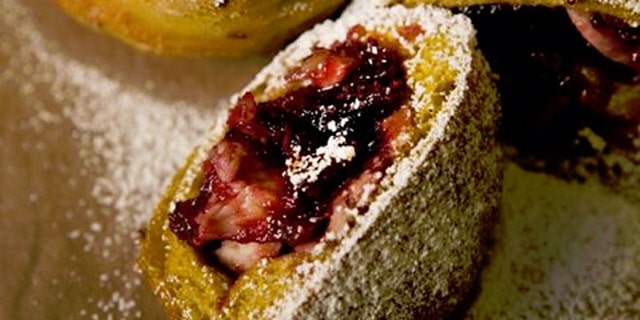 We've seen all kinds of weird and wacky doughnut combinations these days, but this caught our eye.
A Manhattan baker is about to release to the public a doughnut filled with all the fixings of Thanksgiving dinner: turkey, cranberry sauce, and you guessed it, gravy, stuffed inside a deep-fried doughnut.
Zucker Bakery's unique twist on a sufganiyah, a traditional Hanukkah doughnut – usually filled with jelly or custard – is in honor of Thanksgivukkah. What's that you ask? Well, this year, the first day of Hanukkah will fall on the same day as Thanksgiving: Nov. 28. So the Thanksgiving-themed sufganiyah is their way to roll two holidays into one bite.
They offer four kinds (in case the turkey is too much or you): Spiced pumpkin with cranberry and turkey filling, sweet potato with toasted marshmallow filling, spiced pumpkin with turkey and gravy filling, and spiced pumpkin with cranberry filling. They go on sale for between $3.50 and $5 on Saturday, Nov. 9, but you can get a sampling on Friday.
So tell us, ready to try a turkey doughnut?