10 epic doughnuts to celebrate national doughnut day
It's not like Americans needed an excuse to celebrate the joy of eating doughnuts, but just to be sure, there is a National Doughnut Day. This year it falls on Friday, June 7. The holiday began in 1938 when the Salvation Army decided to honor volunteers who passed out doughnuts to soldiers fighting in the front lines of WWI.
In patriotic celebration, we've put together a list of some of the most unusual and delicious doughnuts across the nation. If you can't try these works of fried greatness, grab your free Krispy Kreme or Dunkin' Donut and just bask in the glory of these epic pastries.
1. Lemon Pistachio - Dynamo Donuts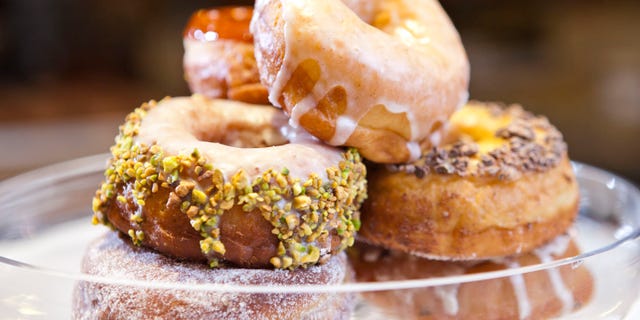 New England Culinary Institute graduate, Sara Spearin, is the mind behind Dynamo Donuts. She came up with the idea for a specialty doughnut bakery, which uses only organic, sustainable, and local ingredients, while on maternity leave from her job at Liberty Cafe in San Francisco. Each doughnut at Dynamo is crafted to be a savory mix of flavors. A few other varieties include: Molasses Guinness Pear, Chocolate Rose Geranium Hazelnut and Bacon Maple Apple.
2. Strawberry Margarita Donut - Psycho Donuts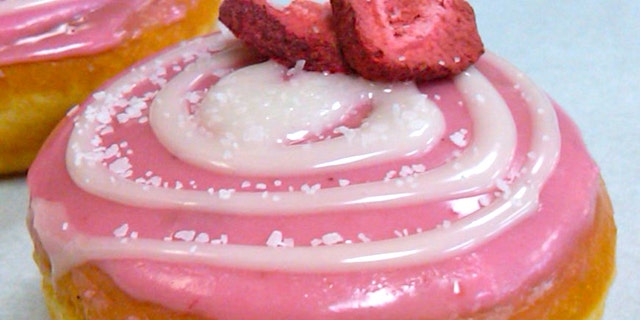 The Strawberry Margarita Donut is part of a series of cocktail-themed donuts designed by Psycho Donuts in San Jose, California. The company is the warped brainchild of former techy Jordan Zwegoron. The store is set up like an asylum. Employees wear lab-coats and the bakery comes complete with a padded booth and straitjackets. The Strawberry Margarita doughnut is filled with real tequila pastry cream, topped with strawberry icing, freeze dried strawberries, key lime drizzle, and margarita salt.
3. Dead Elvis - Psycho Donuts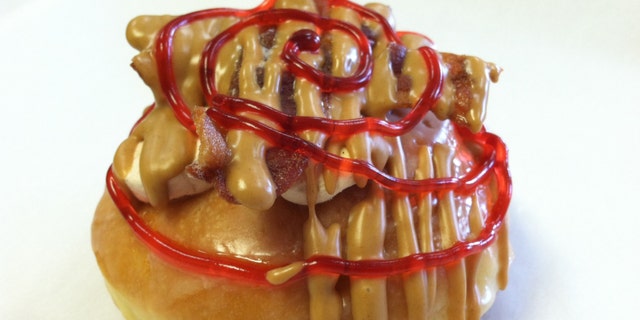 Psycho Donuts' Dead Elvis doughnut is Elvis' favorite sandwich in donut form. The crazy doughnut variety is filled with custard and topped with peanut butter and jelly, bacon, and bananas.
4. Psycho Psushi - Psycho Donuts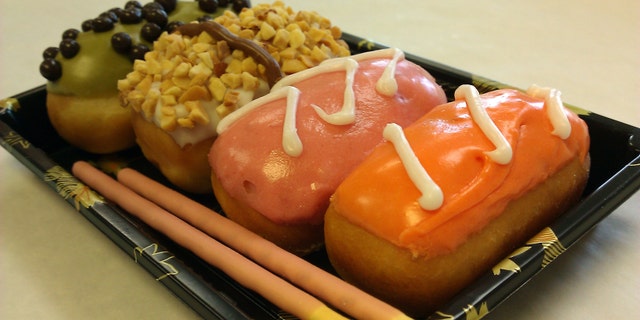 Psycho Donuts' Psycho Psushi is a doughnut bento box with four pieces of "sushi." The box comes complete with edible chopsticks. No fish were hurt in the making of this dish.
5. Wine Tasting Donut - Psycho Donuts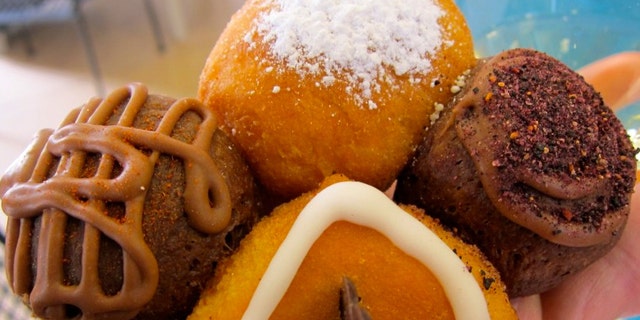 The Wine Tasting Donut is a specialty donut created by Psycho Donuts in 2011. It was crafted in conjunction with a local winery, Poetic Cellars, as a doughnut for pairing with wine. Its four sections pull apart and are specially designed to pair with four different wines.
6. Voodoo Doughnut - Voodoo Doughnut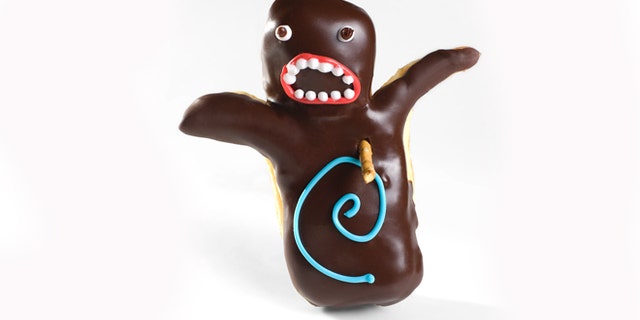 This bizarre doughnut is the namesake of Oregon's Voodoo Doughnut. The raised yeast doughnut is filled with raspberry jelly and topped with chocolate frosting and a pretzel stake. Every doughy voodoo doll is crafted to have its own unique characteristics. For those late-night doughnut benders, Voodoo Doughnut has two locations in Portland that are open 24 hours a day, seven days a week and a third location in Eugene, Ore. that is open 24 hours Thursday through Sunday.
7. Maple Bacon Bar - Voodoo Doughnut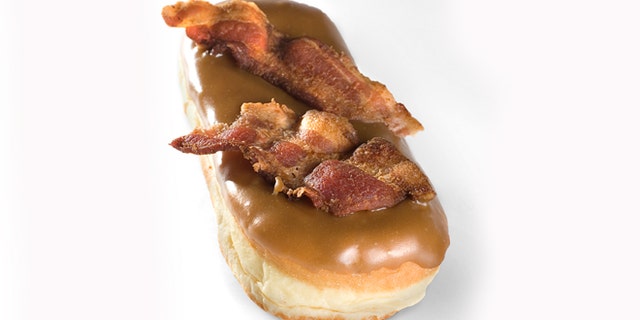 A favorite of Brad Pitt, the Maple Bacon Bar is made with maple frosting and topped with bacon. This popular pastry is proof that the bacon fad is still alive and well.
8. Old Dirty Bastard - Voodoo Doughnut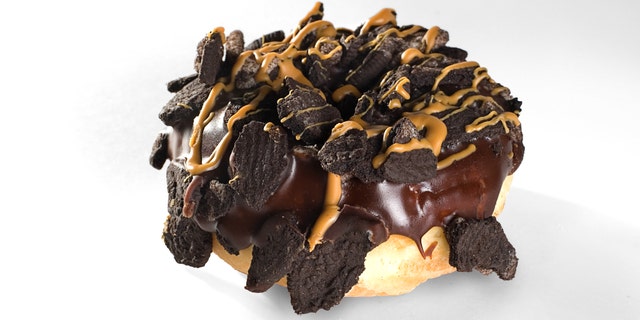 In the world of hip hop, rapper and Wu-tang Clan member Old Dirty Bastard is a legend. In the world of doughnuts, the name is legend as well. This creation by Voodoo Doughnut is made with chocolate frosting, crushed Oreo's and peanut butter.
9. Cronut - Ansel Bakery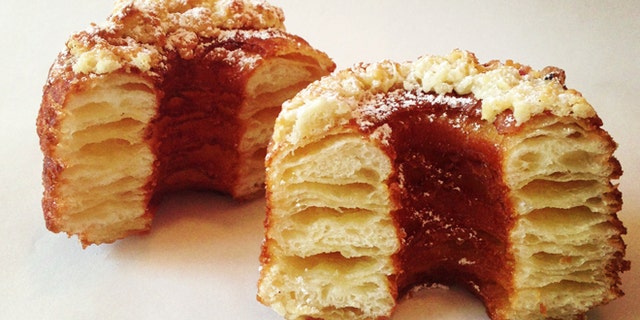 While the cronut is not 100 percent doughnut, it's worthy of special mention. Made of croissant dough fried like a doughnut, is the brainchild of pastry chef Dominique Ansel of Ansel Bakery in New York. The must-have pastry, which sells for $5, is reportedly so desirable that some are willing to pay up to $40 for a taste, and frustrated customers unable to get their hands on it have resorted to tears and abuse towards staff.
10. Chocolate Pudding Doughnut - GBD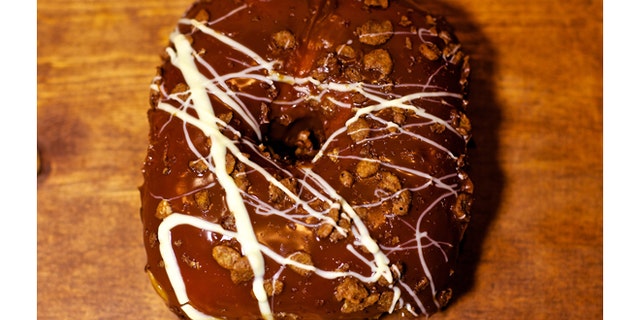 GBD in Washington, D.C. gets its name from the restaurant kitchen shorthand for golden, brown and delicious. The restaurant serves up the epic combo of fresh gourmet doughnuts and flavorful fried chicken. This is their chocolate pudding filled yeast doughnut with milk chocolate, which, for the adventurous eaters, could be paired with fried chicken if desired. On June 7, anyone who comes into GBD from 8 am to 11 am will be eligible win a doughnut party that includes 2 dozen doughnuts and coffee.