Anthony Bourdain offers to 'rearrange' David Duke's kneecaps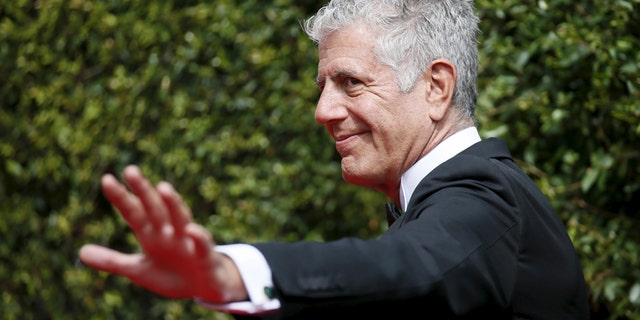 Former Ku Klux Klan leader David Duke is taking aim at Anthony Bourdain on Twitter-- but the outspoken celebrity chef is dishing it right back.
On Thursday night, the former Louisiana state representative retweeted a post originally shared by Counter Currents, a right-wing publishing house, in which they suggested that Bourdan made anti-white remarks during an episode of his "Parts Unknown" series on CNN.
NYC FOOD CRITIC BLASTS BOURDAIN FOR CITY'S FOOD TRUCK 'MENACES'
"Exterminating the White race is the only hope, according to (((Anthony Bourdain)))," wrote Duke, who then directed his followers to the original Counter Currents tweet, which contained a clip from the episode.
Counter Currents' original tweet contained a clip from the June 5, 2016 episode of "Parts Unknown," which featured Bourdain chatting with German chef René Stessl about their countries' respective attitudes toward accepting refugees. At one point, Stessl says his nation needs to be careful not to "fall back" into the same structure that gave birth to the Nazi regime.
"But we kind of are," Bourdain replies. "I don't mean here, necessarily, but [the U.S. is] well on our way."
"I'm allowed to be naïve, and talk about Utiopia," said Stessl. "Just the fact that the whole world will mix up with each other, that in, I don't know, 70, 80 years, there will be no white people anymore and only cappuccino-colored people. It's good."
"That's the only way," Bourdain responded. "It's gonna take some time, but it's really the only way. This sort of Singaporean model, where everybody's so mixed up that you really don't know who to hate, because everybody's so hopelessly intertwined. But we're a long way from that."
In their original tweet, Counter Currents shared their own interpretation of Bourdain's remarks, writing, "#AnthonyBourdain tells the world that whites must replace Jews before Jews replace whites."
Bourdain, meanwhile, became aware of Duke's retweet, and responded directly to Duke by clarifying his stance on genocide and extermination. Then, the 60-year-old chef and jiu-jitsu champion made his opinion of Duke very clear to his 5 million-plus Twitter following:
FOLLOW US ON FACEBOOK FOR MORE FOX LIFESTYLE NEWS
Duke has since responded on Twitter, accusing Bourdain of not actually being against genocide, solely based on his comments in the "Parts Unknown" episode.
You're not against it. In the clip you said the "only answer" was to breed the White race out of existence. That's genocide. Own it. https://t.co/jpgDfZwqiI

— David Duke (@DrDavidDuke) March 3, 2017
Bourdain has yet to respond to Duke's latest post on social media.
In recent weeks, Bourdain has also come under attack from New York City food critic Steve Cuozzo, who blames him for the influx of food carts within the city.