25 Halloween snack ideas to try at your ghoulish get-together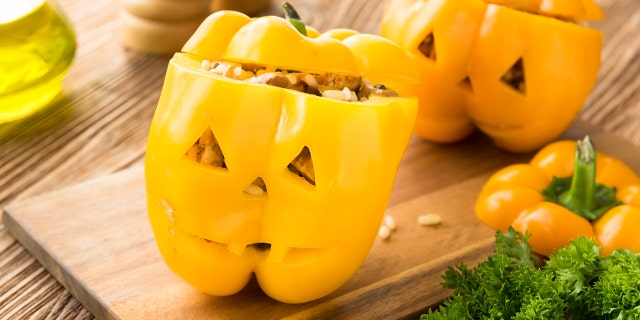 Looking to impress your guests at this year's Halloween party? Or simply entice your kids with eerie eats before they head out for some trick-or-treating?
Well, if there's a trick to these treats, it's this: Don't overthink it. Lots of everyday foods can be transformed into tasty, utterly ghoulish goodies and grub.
WHY SOME HOUSES ARE PUTTING OUT TEAL PUMPKINS THIS HALLOWEEN
Grab everyone's attention with these 25 ideas for spooky snacks and eerie eats, perfect for Halloween. (But be warned: You might even need to remind your diners that these creepy creations are, in fact, edible.)
Mummy-faced shepherd's pie
'Witch finger' breadsticks
Skullzones
Mummy dogs
Stuffed 'jack-o'-lanterns'
GWYNETH PALTROW'S 'COSTUME' COST $475
'Severed fingers'
Monster 'eyeballs'
'Finger' dogs
Graveyard-themed seven-layer dip
STARBUCKS RELEASES HALLOWEEN-THEMED VAMPIRE FRAPPUCCINO IN UK
Creep-crawly smoothie bowls
Cauldron cupcakes
Ghostly pops
'Eyeball' cake
'HAUNTED' VENTURA RESTAURANT SHARES SPOOKY VIDEOS
Crisped-rice pumpkins
Mummified jalapeño poppers
Ghoulish strawberries
Dracula's 'dentures'
SPOOKY HALLOWEEN COCKTAILS THAT ARE PERFECT FOR PARTIES
Crispy-rice witch hats
Healthy Halloween oranges
Cheesy witches' brooms
Shocking skull dip
FOLLOW US ON FACEBOOK FOR MORE FOX LIFESTYLE NEWS
'Dirt' cupcakes
Pumpkin cheesecake
'Broken glass' candy cupcakes
'Braincakes'