Virginia March for Life to be held Wednesday in wake of state's 'pro-abortion extremism'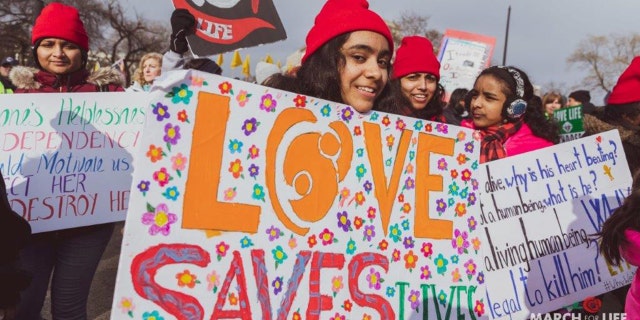 Pro-life supporters in the state of Virginia are organizing the first "March for Life" state rally Wednesday following Democrats' push for virtually no restrictions on abortion in the state, putting them at the center of the national debate on late-term abortions.
The Virginia March for Life will be held on "Veto" day of the Virginia legislative session, two months after New York passed and celebrated a law allowing abortions up to the point of birth in many situations and after Virginia looked like it would be next. State Delegate Kathy Tran had sponsored The Repeal Act, which sought to repeal restrictions on third-trimester abortions. When asked if her bill would allow a mother to abort her child while in dilation, she responded: "My bill would allow that." She later said she misspoke.
85-YEAR-OLD PRO-LIFER ATTACKED WHILE PRAYING OUTSIDE SAN FRANCISCO PLANNED PARENTHOOD: VIDEO
While the bill was tabled in committee, it had the support of top Democrats, including Democratic Gov. Ralph Northam, a former pediatric neurologist, who pushed even further the following day, saying that if an infant -- deemed "non-viable" or "severely disabled" -- is delivered, the child should only be resuscitated if that's what the mother and family desired. His comment drew a quick rebuke from Sen. Ben Sasse, R-Neb., the author of the Born-Alive Abortion Survivors Protection Act, who said the governor should "get the hell out of office."
The bill would ease restrictions on second-trimester abortions, including allowing it to be performed in a clinic rather than a hospital and having one doctor certify the need for it, rather than three.
"I've had women in my family, women in my district and women across Virginia who've told me that they've really had to grapple with the very personal, private decision as to whether or not they're going to have an abortion," Tran said when pushing for the bill. "This bill would have repealed these barriers for them to access safely this medical service in consultation with their doctor."
Jeanne Mancini, the president of the March for Life, said Virginians will not stand for "abortion-on-demand" but will instead march against it.
ABORTION SURVIVORS ON NEW LATE-TERM ABORTION BILLS: 'WHERE WERE MY RIGHTS IN THE WOMB?'
"The stakes have never been higher. Americans know that aborting a seven-pound baby who can survive outside the womb is ghastly and wrong," Mancini told Fox News. "March for Life, an organization that has gathered, united and mobilized pro-lifers in the national public square for 46 years, will now grow to rally pro-lifers in the states where the pro-abortion lobby is so aggressively pushing abortion extremism."
According to a Gallup poll from 2018, over 80 percent of Americans believe abortion should be illegal in the third trimester, while only 13 percent think it should be legal.
ABORTION SURVIVOR: SENATE DEMS ARE 'WILLING TO SACRIFICE LIVES LIKE MINE TO KEEP ABORTION-ON-DEMAND'
Melissa Ohden, the survivor of a saline-infused abortion and the founder of the Abortion Survivors Network, will be speaking at the rally at the state capitol. In February, she blasted Senate Democrats for being "willing to sacrifice lives like mine to keep abortion-on-demand," and one of her fellow abortion survivors, Claire Culwell, asked: "Where were my rights in the womb?"
Other speakers include Ryan Bomberger, the founder of the Radiance Foundation, Victoria Cobb, president of The Family Foundation, Olivia Gans Turner, president of the Virginia Society for Human Life, and Felicia Pricenor, associate director of the Virginia Catholic Conference.
Alison Centofante, the director of external affairs for Live Action, a pro-life non-profit group, told Fox News that groups like Planned Parenthood and NARAL have been pushing for abortion on demand without restrictions for years.
CLICK HERE TO GET THE FOX NEWS APP
"We did not get here in a vacuum," Centofante said. "This push for abortion on demand is strategic and funded with our tax dollars. Every day we wait to defund Planned Parenthood, they receive another $1.5 million from taxpayers, kill another 912 innocent children, and champion abortion until the moment of birth."
ABBY JOHNSON: 'UNPLANNED' IS MY STORY AND YOU CAN'T UNSEE IT
The March for Life will be streaming the rally online.
In addition to the rally at 11 a.m. at the Capitol, there will be morning mass, grassroots training for pro-life advocates, and prayer and dinner with Dr. Alveda King later in the day. More information can be found here.