Rabbi blasts Ilhan Omar, NYT for pushing claim Jesus was 'Palestinian,' not Jewish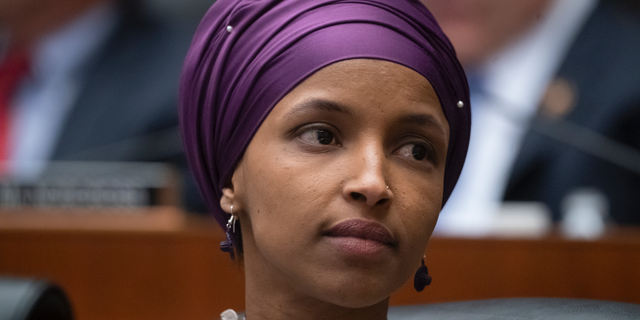 A Jewish rabbi is calling out a Muslim lawmaker -- who has been accused of anti-Semitism -- and the New York Times for pushing the notion that Jesus was a Palestinian.
Rabbi Abraham Cooper, associate and director of Global Social Action Agenda at the Simon Wiesenthal Center, called out Rep. Ilhan Omar, D-Minn. after she retweeted a tweet from Omar Suleiman, an adjunct professor of Islamic Studies at Southern Methodist University, who said a Palestinian relative asked him why the "Christian right in America largely supports their oppression."
ILHAN OMAR CLAIMS US FORCES KILLED 'THOUSANDS' OF SOMALIS DURING 'BLACK HAWK DOWN' MISSION, RESURFACED TWEET SHOWS
Suleiman wrote that his relative asked: "Don't they know Jesus was a Palestinian?"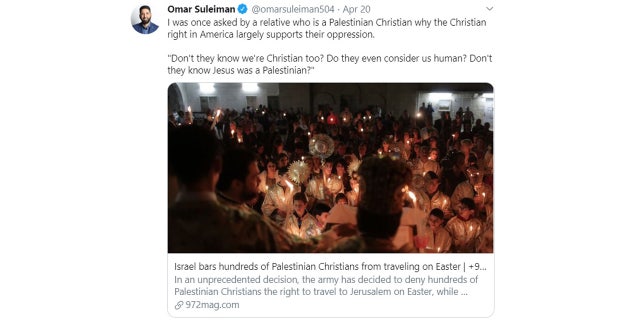 The day before the tweet, a New York Times op-ed claimed: "Jesus, born in Bethlehem, was most likely a Palestinian man with dark skin."
MEDIA DIDN'T CALL SRI LANKA MASSACRE AN ATTACK ON CHRISTIANS. HERE'S WHY A MUSLIM SCHOLAR CALLS IT 'VERY TROUBLING'
Cooper accused the NYT of "fake news" and said both are trying to "rewrite" history with the claim.
"Palestine was a name made up by Romans after they crucified thousands, destroyed the Holy Temple in Jerusalem and exiled the People of Israel from their homeland," Cooper told the Jewish Journal.
HOW ABDU MURRAY WENT FROM BEING A DEVOUT MUSLIM TO DEFENDING THE CHRISTIAN FAITH
Others called out Omar following the retweet.
"No, Jesus was Jewish, actually," Fred Menachem, a media commentator wrote. "I'm a bit surprised that a Congressperson would retweet false and inaccurate information."
FARRAKHAN CLAIMS TO BE JESUS IN 'SAVIOURS' DAY' ADDRESS: 'I AM THE MESSIAH'
The account for Students Supporting Israel said: "Is it for real? Jesus was a Jew. What's next? The Pope is also Palestinian? Stop lowering our IQ."
CLICK HERE TO GET THE FOX NEWS APP
The NYT and Omar are not the first to make that claim. Jeremiah Wright, the controversial pastor who preached at a Chicago church attended by President Barack Obama, claimed "Jesus was a Palestinian" years ago at a Nation of Islam event.