'X Factor' Season One Contestant Gets Redemption, Singer Wows With Whitney Song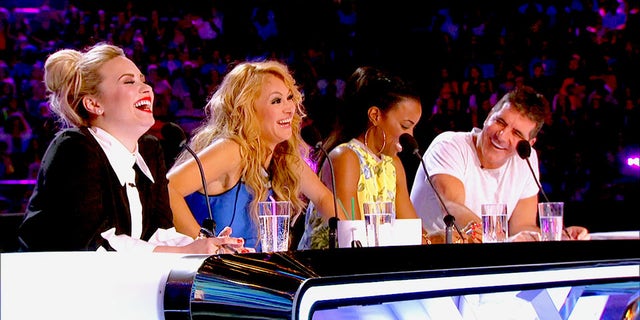 It's starting to look like season three of the "X Factor" may be the year for redemption.
Just a day after Jeff Gutt – who was cut from season two – came back to impress the judges with his rocker style, Ellona Santiago did the same.
The 16-year-old from San Lorenzo, Calif., first appeared on the "X Factor" stage in the show's first season. She got the boot in that competition.
She came back Wednesday and, after quietly introducing herself to the judges, the petite singer showed the judges that she packs a punch.
Santiago launched into her rendition of pop ballad "Wings" by fellow X Factor alum Little Mix and mesmerized the judges. By the end of her audition, all four judges were angling to work with her.
"Whoever that girl was, she came out and she meant business," said newcomer judge Kelly Rowland, who could only say "wow" about Santiago's performance.
Judge Simon Cowell apparently couldn't remember she had tried out for the show.
"Ellona. I'll have to remember this name. Ellona Santiago," he said.
When she pointed out that she had been there before, he couldn't believe it.
"Well, the two-year difference is unbelievable," Cowell said.
Santiago went on to the next around and was joined by country singer Andrew Scholz, 18, of South Carolina, Stone Martin, 14, of South Carolina – who has been likened to Justin Bieber – and Los Angeles native Ashly Williams, 24.
The two teenagers nailed it. But Williams' act was memorable.
In the pre-audition recorded package, Williams revealed her mother was murdered when she was about 14 years old. She said her "X Factor" audition was the moment of her life.
"This is the moment I was waiting for," Williams said, thinking about her mother. "This is the moment she would have liked to see."
Performing a beautiful rendition to Whitney Houston's "I Will Always Love You" – one of the toughest songs to performance because of its range – Williams floored the judges and the audience.
"Oh my God. I was just captivated by your talent," said judge Paulina Rubio. "That was an amazing performance."
Youngest judge Demi Lovato said the performance left her speechless.
"I can hear that heart … there is a place in the market for you," Lovato said.
Cowell said performances like Williams' was the reason the show came to the United States.
"So that we could find someone like you," she continued. "I think we just scratched the surface with you."
Follow us on twitter.com/foxnewslatino
Like us at facebook.com/foxnewslatino