Preparations for Princess Eugenie's royal wedding are now underway at Windsor Castle
It's time for another royal wedding at Windsor Castle — but this time it's less of a global TV spectacle and more of a family affair.
Princess Eugenie, the granddaughter of Queen Elizabeth II, is set to marry tequila company executive James Brooksbank on Friday morning, but the second royal union of the year seems to have less interest than Prince Harry and Meghan Markle's May celebration.
Michael Taylor, a drummer from Chicago who toured Windsor Castle on Wednesday told the Associated Press that he had "no interest" in the October 12 wedding. "I don't know anything about her. If she walked past me right now, I wouldn't even know."
Eugenie is the 28-year-old daughter of Prince Andrew and Sarah Ferguson, and ninth in line for the throne. She has lived most of her life outside the media spotlight and keeps a low profile compared to cousins Prince William and Prince Harry and their glamorous wives.
That's reflected in the souvenir shops that line the streets leading to the imposing castle. Only a few Halloween face masks feature Eugenie's face, though some shopkeepers say that will change in the hours ahead of her wedding.
"It's going to be shirts and some mugs. A few people have been asking for it, but compared to Harry-Meghan, it's not that big," said Salman Khan at The King and Queen gift shop. Eugenie items have been hard to find because only a few suppliers are manufacturing them, he added.
"This is different, but it's still quite good for the town. The whole town is still excited. It's going to be a good day for everybody," he said.
Snippets of the wedding will be shown on British TV, but only one channel, ITV, is planning to provide live coverage of the proceedings.
And similar to Harry and Meghan, Eugenie and her fiancé will invite 1,200 members of the public to the castle grounds for a better view of Friday's festivities.
The royal couple will say their vows in St. George's Chapel and afterward, the newlyweds will ride through the streets of Windsor in a royal carriage just as Meghan and Harry did on their wedding day.
It's not clear how many visitors will come to Windsor, a riverside town about 20 miles (32 kilometers) west of London. Part of the draw will be the chance to catch a glimpse of the queen and other royals, including William and his wife Kate, the Duchess of Cambridge, and their two young children, Prince George and Princess Charlotte.
George, 5, will be a page boy in the bridal party, and three-year-old Charlotte will be one of six bridesmaids - the party also including Eugenie's older sister, Princess Beatrice, who will act as her maid of honor. It is not clear if five-month-old Prince Louis, will attend, but Harry and Meghan are expected.
Eugenie is following tradition by not revealing who designed her wedding gown, but she has said it will be a British designer.
Brooksbank and Eugenie have dated for many years. The princess said her fiancé got down on one knee and proposed in January during a trip to Nicaragua while the couple was visiting a spectacular lake next to a volcano.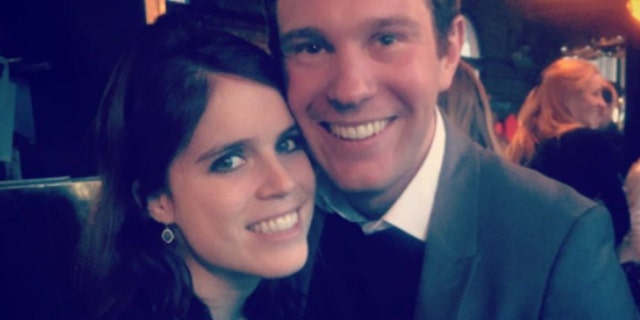 The queen, who has recently returned from an extended summer vacation in Scotland, plans to host a champagne luncheon for the newlyweds shortly after the ceremony, and a second reception will be held that night.
The queen's luncheon is expected to be a quiet, muted affair — reflecting the 92-year-old monarch's advanced years — with the nighttime shindig seen as a chance for the younger generations to step out in style.
And with the presence of so many royals — and a number of celebrity guests — extra security measures have been put in place.
Police teams have been meticulously checking and sealing water drains near the castle, and sniffer dogs are checking for explosives in the royal-themed shops, restaurants and tea rooms frequented by tourists.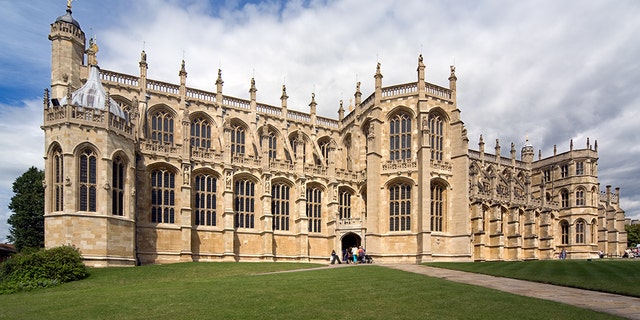 The royal family is paying for the wedding, but the anti-monarchist group Republic is lobbying Parliament to prevent any public money from being spent on security or other wedding-related costs.
These concerns aren't popular in Windsor's business community, where the surging popularity of the royal family in recent years — and the afterglow of Harry and Meghan's wedding — has helped bring in visitors in recent months.
"We are getting a lot of American and Chinese and Spanish visitors,"  Jag Khaira at the Nell Gwynn Tearoom told the AP. "A lot of tourists don't even know about this wedding Friday, but it will bring in the crowds and should be a good day for us."
The Associated Press contributed to this report.