Will New 'Jersey Shore'-Inspired Show Portray Southerners as Dumb Hicks?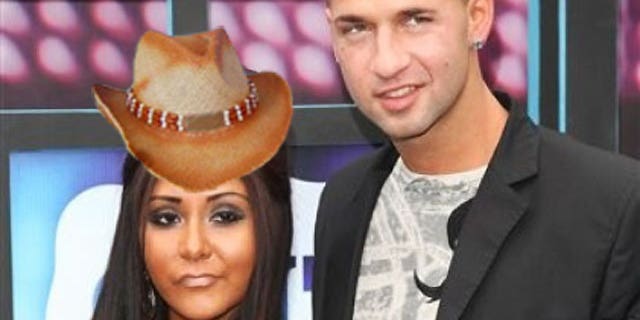 LOS ANGELES – When "Jersey Shore" first found its way onto MTV's airwaves in December last year, it was met with outrage from many within the Italian-American community who were offended by the reality show's apparent exploitation of stereotypes and use of ethnic slurs. Furthermore, an array of advertisers were quick to withdraw their support, and even the Jersey Shore Convention and Visitors Bureau didn't hold back in publicly slamming the program's "one dimensional" portrayal of the group's summer experience in the tourist hotspot.
But now Doron Ofir Casting, the very same Hollywood-based agency that swept Snooki and her slicked-back, booze-lovin' pals from obscurity into international fame and fortune, is working on a new Jersey-esque show, tentatively titled "Party Down South." Only this time they're seeking 12 "outrageous" male and female southerners between the ages of 22-35, who long to spend their summer partying it up alongside a pick-up truck with fried chicken and a six-pack of booze, y'all.
"(Unlike 'Jersey Shore') the show is defined by location, not by ethnicity. We want people from all different southern and middle American states," Ofir told Pop Tarts. "We want real personalities – rednecks, proud Americans, people that want to party. It will be like a dream vacation."
SLIDESHOW: The Cast of the Jersey Shore
But like "Jersey Shore," controversy is already brewing with many wondering whether or not the Hollywood-created show might very well make a mockery of life in the South.
"To make the show work, the casting directors will find the most redneck and trampiest kids they can find to represent 'the South.' Unfortunately, that's what sells," said Nashville-based attorney, Adam Dread. "Sure, some people will be offended by the show. The producers will be counting on that for free advertising."
However, Los Angeles-based reality TV producer Mikey Glazer, believes the chosen personalities will need to be much more than cookie-cutter clichés.
"Like any quality reality show, they will need dynamic personalities that an audience can root for," he explained. "If they select a cast who are caricatures of the most overblown 'hick' stereotypes, they'll just be one note, and once you've heard that note you're bored. They have to be likeable."
Ofir and his Hollywood casting crew have already been inundated with video submissions from hundreds of hopefuls fishing for their fifteen minutes – or at least plenty of rounds "on the house." And as we speak, the team is loading up the RV in preparation for a cross-country casting road trip. On their radar, in particular, are those financially affected by the oil spill.
We're told that, over the coming weeks, the mobile casting "studio" will make its way along Florida's Emerald Coast to the affectionately titled "Redneck Riviera" to give those economically hard-hit by the disaster in the Gulf the chance to make a quick buck. The RV will also cruise through an array of towns and cities in Florida, Alabama, Louisiana, Mississippi, Arkansas, and Tennessee, while another RV hits up local hangouts in Georgia and Kentucky.
While chances are the show, (which is yet to be affiliated with a network), will probably encounter at least some resistance from Southern communities, Ofir insisted that it may play a positive role in spotlighting the true spirit of the young, hard-working, blue-collar American.
"It will include all different elements of the South, and some will be stereotypical, but it will also be very identifiable to audiences," Ofir added. "A lot of people have never really seen the true, salt-of-the-earth, lifeblood of America. These are the people that work hard to make ends meet, it's a celebration of Americana."
So if you think you've got what it takes to be the drawlin' equivalent to The Situation or Sammi "Sweetheart" – the folks from PartyDownSouth.com are still on the search…