Where's the beef? President Obama's press tour favors entertainment shows and soft ball interviewers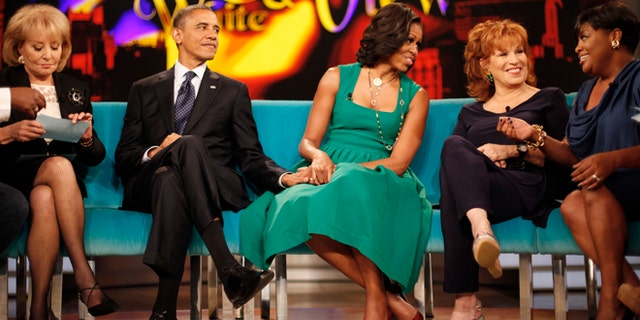 President Obama recently sat down for an interview with newly appointed "Today" host Savannah Guthrie, which aired on the ailing NBC morning show on Tuesday. They discussed the teachers' strikes in his hometown of Chicago for a series she hosts called Education Nation, but one question remained unanswered: Why did the green Guthrie, and not her much more seasoned co-host Matt Lauer, give the interview in the first place? Was Lauer, known for his direct, sometimes uncomfortable, interviewing technique too risky for the President to take on?
"The last thing the President wants to do is answer real questions from real journalists regarding Libya, 8.1 percent unemployment, the failed stimulus and everyone's favorite, Obamacare," Jeff Roe, GOP political consultant and founder of Axiom Strategies, told FOX411's Pop Tarts column. "It will only backfire if real journalists hold him accountable for dodging questions regarding his judgment in office."
Earlier this year, Lauer did sit down with Obama for the traditional pre-Super Bowl interview, and the NBC host grilled him about job creation, and whether he would support Israel striking at Iran's nuclear sites. Lauer also interviewed the freshly-inaugurated President in 2009, hitting him with a number of issues including the Wall Street bonus payouts, the executive order he signed to close Guantanamo within a year, and his "one-term proposition" if he was unable to recover the nation's economy.
[pullquote]
Media trainer Louise Pennell, founder of the Media Communications firm Clarke + Pennell, said the Guthrie/Obama combo was a "win-win scenario for both the President and NBC."
"The President wants to stay away from ruthless interviews -- the recent Univision interview is an example of that. He also wants to target female voters, and having an attractive female throw questions at him, helps portrait his smooth and charismatic style," she said. "As for NBC, with their struggling ratings, they need to boost Savannah Guthrie's profile and credibility. There's no better way to do that than to have her interview the leader of the United States."
Other media critics are questioning why the President is focusing on softer celebrity-based shows with less hard-hitting hosts, instead of news programs. In addition to his Guthrie interview on "Today," Obama has appeared on ABC's daytime talk show "The View" along with the First Lady, as well as "The Late Show with David Letterman." His forthcoming interview schedule has yet to be released.
"It's easy to talk about fluffy stuff when you're hiding from reality," surmised political and entertainment publicist Angie Meyer. "This calls to question if the President is only comfortable in an entertainment celebrity-like arena that's void of all hard news. He is running an election solely on image, not record or results."
But some say this cushy approach could work in his favor.
"President Obama and his team clearly see an advantage in doing as many soft morning talk shows and late night entertainment shows as possible. The viewers of these programs are far more likely to be part of his base, especially younger women voters," said Gene Grabowski, VP of Levick Communications. "If he can be interviewed by a woman, it is even better because he can convey respect for professional women in such a setting. He is not afraid of tougher interviews necessarily, but when he has the option, he is far better off in the softer setting because it emphasizes the caring side of him that he wants to contrast with Romney's image."
In contrast, while Guthrie interviewed Obama for "Today," opponent Mitt Romney was being interviewed by Brian Williams for Tuesday's "NBC Nightly News," which was then set to re-air on Wednesday's "Today."
"It's a very strategic media strategy the Democrats have laid out for the President in order to target his core voters. The 'fluffy' interviews won't backfire because of the kind of audiences these particular shows attract. People wouldn't tune into 'The View' or 'The Today Show' if they really wanted to hear the hard facts about the economy or the war. They watch for the light hearted diet stories, and occasionally get fed some harder news," Pennell added. "The President doesn't need or want to convince more conservative voters he's worth keeping in the oval office for another term. because he knows his interviews will fall on deaf ears. He's better off sticking to talk show audiences, who won't question his decision making."
NBC did not respond to a request for comment.