Vin Scully vows never to watch another NFL game amid protest controversy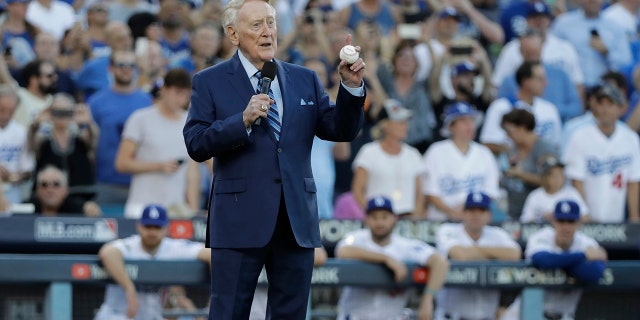 Amid the ongoing controversy surrounding the NFL and players kneeling during the National Anthem, one key figure in the world of sports is vowing to never watch football again.
Famed L.A. Dodgers Hall of Fame broadcaster Vin Scully spoke publicly on the issue of the anthem before games and made the decree that he's officially done watching football. The 89-year-old sportscaster was giving a speech at the Pasadena Civic Auditorium in California on Saturday when, according to ESPN, he was asked about the protests.
"During the fall and winter, I watch the NFL on Sunday, and it's not that I'm some great patriot. I was in the Navy for a year, didn't go anywhere, didn't do anything, but I have overwhelming respect and admiration for anyone who puts on a uniform and goes to war. So the only thing that I can do in my little way is to not to preach; I will never watch another NFL game."
As Sports Illustrated notes, Scully's remarks come at a relatively safe time for him, as he retired last year after almost seven decades as a broadcaster for the Dodgers. Over the past two seasons of the NFL, players have been kneeling during the National Anthem, despite the NFL guidelines encouraging players to stand and place their hands over their hearts.
The protests began last season when the San Francisco 49ers' Quarterback, Colin Kaepernick, began kneeling during the anthem in an effort to protest, what he perceived to be, an disproportionate reaction by the police to African American offenders in the United States. Since then, the issue has ballooned in public interest after president Donald Trump spoke on the matter publicly.