Univision's 'Sabado Gigante' ending after 53-year run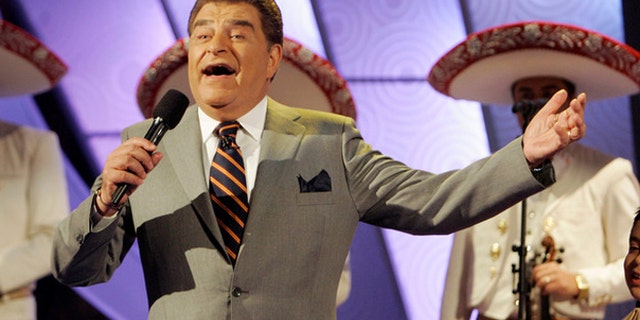 NEWYou can now listen to Fox News articles!
The top rated variety show on Spanish-language television for decades, "Sabado Gigante" or "Giant Saturday" will air for the last time in September.
The longest-running television variety show in U.S. history will end on September 19th, Univision Network announced on Friday, officially bringing an end to a more than 53-year run on television. The three-hour show, a mainstay for Univision, became a staple for Hispanic families in the United States and made its host Don Francisco, the show's creator, a household name.
"I have no words to thank our viewers for the support, loyalty and enthusiasm with which they have honored us through the years and which have allowed the show to become an unprecedented success in the history of this medium," Don Francisco, whose real name is Mario Kreutzberger, said in a press release.
Don Francisco, 74, who rose from Chilean TV star to worldwide fame, will remain with Univision working with "new projects" and will host "entertainment specials and campaigns." Univision also said they want Don Francisco to help develop new talent for the network.
The show announced two years ago that Don Francisco was scaling back his duties and two young hosts would be added to the show's lineup to measure how the audience would react to the changes.
Sabado Gigant combined talent show acts, humor, games, and interviews every Saturday night. "Sabado Gigante" launched in 1962 on Chile's Channel 13 as "Sabado Gigantes" before moving the production to Miami, Florida in 1986. The show began airing on Univision and became known by its' singular title "Sabado Gigante."
Through the decades, the show changed its comedy segments, guests, acts, and look but its foundation – Don Francisco – stayed the same.
"Mario's uncanny ability to connect with audiences has transformed how we look at variety shows and allowed 'Sábado Gigante' to endure the test of time," said Alberto Ciurana, president of Programming and Content for Univision Communications Inc., in a press release. "For so many in the Spanish-speaking community, Don Francisco's weekly three-hour show defines Saturday evening entertainment, and I want to thank him and the incredible team for their outstanding work."
In a statement Don Francisco went on to say, " "From the start we made sure to ask, 'what does the audience want?!' And we have worked tirelessly for precisely that audience, with the utmost dedication, humility and deep respect. I have no words to acknowledge all the recognition and applause that we have received over the years."
"To all those who joined us by tuning in to 'Sábado Gigante' with their constructive criticism, work and loyalty, I would like to say from the bottom of my heart and in capital letters, THANK YOU VERY MUCH."