'Tunes 4 the Troops' hero Kaylee Marie Radzyminski recognized as one of Glamour magazine's Top Ten College Women of 2012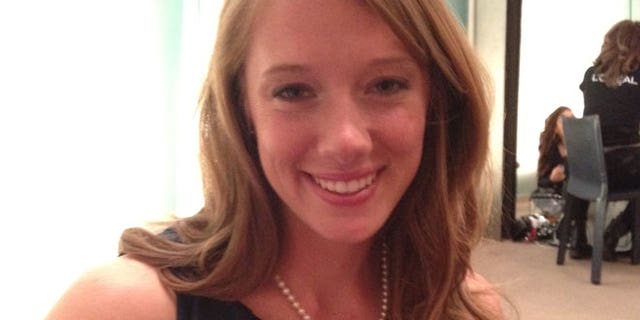 NEWYou can now listen to Fox News articles!
Now you can officially call her a "Glamour" girl.
Kaylee Marie Radzyminski, founder of Tunes 4 the Troops, the organization she created in 2005 as a teenager which has since shipped over one million CDs and DVDs to soldiers serving overseas, was named one of Glamour magazine's Top Ten College Women of 2012.
"It's hard to grasp, because it's just me," Radzyminski told FoxNews.com shortly after returning from her trip to New York City to be honored by the publication. "It's just weird to look in a magazine that I subscribe to and see my picture."
A photo of Radzyminski wearing army fatigues and listing to music on a hot pink iPhone with matching headphones was the lead photo for the Glamour magazine story.
"I was shocked," explained Radzyminski. "At first, I couldn't find myself in the magazine. One of the other girls was like, 'You're right here, in the front!' She was surprised that I didn't already know. My flight had been delayed, so I was one of the last ones there–all of the girls had seen the magazine already. It was really neat, because they were all excited when they showed me. I was like, 'Oh, my gosh!'"
[pullquote]
The junior at Tennessee Tech University quickly bonded with her fellow Top Ten College Women of 2012. "All of these girls have really high goals and aspirations–and they're already changing the world, so I'm excited to see who they become. Hopefully, I'll be able to work with them in the future–we're definitely going to remain in contact."
This was Radzyminski's, who is from Cleveland, Tenn., second visit to the Big Apple.
"I always hear that people in the South are some of the nicest people that you'll ever meet, but with this trip to New York, I wouldn't be able to understand that saying."
Radzyminski's whirlwind tour of New York included a visit to Rockefeller Center and lunch with some notable women.
"We got to speak with some pretty amazing people," said Radzyminski. "We basically got to pick their brains and find out what got them to be so successful and how they got to where they are today."
One of those women was Dylan Lauren, owner of Dylan's Candy Bar.
"She is really one of the nicest people that I've ever met," Radzyminski said of the successful New York-based entrepreneur. "She just moved, so she's going to get all of her CDs and DVDs and she's going to send them to me for Tunes 4 the Troops. She's also going to ask around and see who she knows who can donate their music and movies."
[summary]
Radzyminski also received a tour of Google's New York office. "We got to see how such a successful company is run and what they do on a daily basis," she said. "They have game rooms, scooters to get from one end of the building to the other, kitchens with tons of snacks and cappuccino machines. That was really neat to see just because you wouldn't think that mentality would work, but obviously it does. They even have these little sleeping pods with white noise so that the workers can go and get their mind off of things, and then go back to work refreshed."
Radzyminski even got a Glamour makeover. "L'Oreal did hair and make-up prior to the award ceremony, and it was awesome," said Radzyminski. "I've never had that done before–it was incredible. I felt like such a princess!"
What may have impressed Radzyminski the most on her trip was meeting all of the successful women at the round table discussion set up by Glamour. "One of the things I noticed with all of the women was that even if they were turned down for something, they would go right back at it with the force of times ten. Never giving up is extremely important–you can do anything that you set your mind to."
In her Glamour profile, Radzyminski boldly declared that in 20 years, she plans on being the first female U.S. secretary of defense.
"People from the ROTC at my school read it and texted me about it," Radzyminski said of the reaction to her ambition. "My close friends think I can do it–I hope I can! Even if I'm not the first, I definitely think we need a female there sometime soon."
More immediately, Radzyminski plans to stay closer to home. "Right after after I graduate in 2013, I will be going to Fort Campbell, KY, for three weeks to job shadow someone in the Army who is in military intelligence, which is really cool. There was only one spot in my brigade for that, and I got it, and I'm really excited."
Radsyminski has come a long way since FoxNews.com profiled her back in December of last year. "My life has definitely changed, and I have a whole new outlook on life," explains Radsyminski. I've been inspired by the people I've met, the things I've gotten to do, and the things that I've been able to see. I'm just so thankful that I've been blessed with all of these opportunities and that I've been inspired to go on to help other young people to go out and achieve their dreams."