'Top Chef's' Padma Lakshmi on keeping the cooking show fresh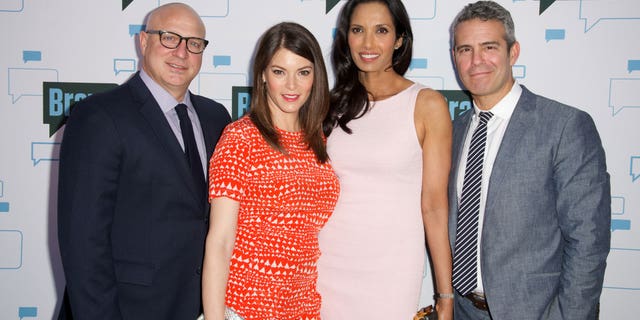 With nearly a dozen seasons and a handful of spinoffs, Bravo's "Top Chef" still remains a fan — and critics' — favorite. It's also an awards darling, continually receiving Emmy nods and, somewhat famously, upsetting "The Amazing Race" for the reality competition trophy in 2010.
So how does the cooking competition show keep things fresh? Host Padma Lakshmi shared her thoughts at the "Watch What Happens Live! Presents a Night With Top Chef" panel that Bravo's Andy Cohen hosted May 1 at the Television Academy in North Hollywood reports Variety.
"On our show, the chefs are the stars," Lakshmi said. "For us, the focus is on the food and on the chefs. You find out who you want to root for. You figure out what's compelling about seeing someone not do well and then do well … you can't really pre-program that. What you can do is set the stage, the opportunity for that wonderful stuff to bubble up. And I think our wonderful producers are incredibly talented at doing that season after season."
Lakshmi, who was joined at the panel by head judge Tom Colicchio, judge Gail Simmons and past "cheftestants" Richard Blais and Brooke Williamson, added that it helps that the show has the respect of the food industry — something she knows is important to seasoned chef Colicchio but also, as Colicchio joked, ensures that the personable host can get any reservation she wants.
The show's enjoyed a long run of successful "cheftestants" — season-four winner Stephanie Izard, for example, opened her Chicago restaurant Girl and the Goat in 2010, and it was then named America's best new restaurant by Saveur magazine, while season-six winner Michael Voltaggio's West Hollywood restaurant Ink was named best new restaurant by GQ in 2012 and season-five and season-eight finalist Carla Hall is a co-host of ABC talkshow "The Chew."
Colicchio said at the panel that under-seasoning and too many ingredients are still the pitfalls of many competitors. "There are some real tell-tales right away," he said. "Is it seasoned properly? Is it cooked properly? Are all the ingredients handled properly? And that you can surmise very, very quickly … I think someone has an advantage if they are using a combination of high acid, a little bit of spice, and salt and fat."
Season 12 of "Top Chef" starts filming soon in Boston and will air this fall. While the panel couldn't divulge any spoilers on the new season, they did tease to expect lots of dishes surrounding baked beans, clam chowder and other stereotypical "wicked" dishes.