Tim Allen speaks out about Roseanne Barr firing: 'That's not the woman I know'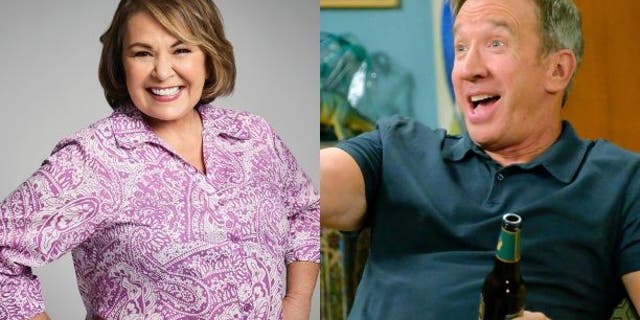 LOS ANGELES – Tim Allen is speaking out about embroiled television star, Roseanne Barr.
When asked about the cancellation of her namesake show by ABC following a racist tweet Barr posted about a former Obama administration official in May, Allen expressed multiple times that that's not the same person he knows.
"You know, I go way back with Rosie and that's not the Roseanne I know," "The Last Man Standing" star told reporters at the 2018 Television Critics Association Summer Press Tour in Beverly Hills, Calif. on Thursday.
"My mother and I went through this," Allen, 65, recalled.
"And she goes, 'What did she mean by all that?' and I said I don't know," Allen admitted.
"She was the most diverse and tolerant women I've ever known for a long time," he continued. "So, whatever got in her head isn't the Roseanne I know."
The actor, who went on to say that "it's a very icy time," added that in his 38-year span of being a comedian, he has "never seen it."
"Like Lenny Bruce said at the Purple Onion, 'We've gone backwards,'" Allen explained. "There's things you can't say, things you shouldn't say and I said, 'Who makes up these rules?'
"And, as a stand-up comic, it's a very dangerous position for me to be in because I like pushing buttons and we're all very sensitive," he continued.
"And, I don't know what Roseanne… but, I'm telling you, that's not the woman I know. Whatever came out of that, whatever she said by that – she's inclusive and tolerant, it's unfortunate."
When further pressed about whether or not ABC made the right call by terminating Barr after her comments, Allen added, "They had to do what they had to do, and that's their decision. I'm just on the other side. I know Barr, and she's just not that person."
Along with discussing Barr, Allen also spoke about how as a stand-up comedian, he has had to dial his content back a bit in recent times, admitting that he even warns his audiences who attend his shows that the language he uses may be sensitive in nature.
"I visualize to the audience and I tell them ahead of time, I'm going to be saying these and I know they're offensive to you – let's decide why they're offensive and who's making that decision," he said. "I have a whole bit about PC correct and what it is."
He added: "I understand where we are, and we've made some adjustments and I said I like pushing stuff and making everybody laugh on stage, but you take stuff I said out of context? We were laughing about this and it's not even funny."