Tiger Woods Wins The Players Championship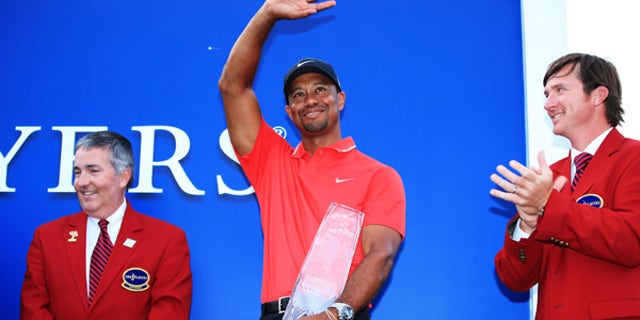 Lindsey Vonn must be Tiger's lucky charm! Woods won The Players Championship on May 12, ending a weekend of verbal sparring with competitor Sergio Garcia on a high note!
It was a tense dual at the TPC Sawgrass in Ponte Vedra Beach, Florida on May 12. Tiger Woods won the championship, beating competitor Sergio Garcia, by miraculously bouncing back after sinking his tee shot into the water on the 14th hole and throwing away a 2-shot lead. This is Tiger's second Players win, a dozen years after claiming his first.
Tiger Woods Wins The Players Championship
"It was a tough battle," Tiger said to USA Today. "This golf course has been a little bit tricky over the years, and I'm not the only one who's struggled with it. It's a tough course. Fortunately, I've been playing really well, and the last tournament I played in, I played really well. So coming here I was pretty confident in what I was doing."
Tiger continued, " … I hit it so good today, it was fun. I hit it high, low, left to right, right to left, whatever I wanted, except for that tee shot at 14."
After his water mishap, a key par save on the next hole "turned the tide" for him, Tiger noted.
He took the lead with a birdie on the par-5 16th, and closed with two pars to post a 2-under-par 70 for the day and 13 under for the tournament.
Tiger Woods Reflects On The Players Championship — The Good & The Bad
"I was in control of the tournament, got to the 14th tee and hit the worst shot I could possibly hit," said Tiger. "But it was the only bad swing I had all day and I was still tied for the lead."
Sergio faltered when he dunked two balls into the water on the fan-favorite island par-3 at 17 for a quadruple-bogey 7, followed by another ball into the water on 18 and a double-bogey that dropped him to eighth place.
Tiger's girlfriend, Lindsay Vonn, was in the gallery watching her man win the championship. How cute!
What do YOU think, HollywoodLifers? Are you happy Tiger won?
– Chris Rogers
More Tiger Woods News:
Tiger Woods & Lindsey Vonn Make Red Carpet Debut At Met Ball
Tiger Woods Loses At The Masters
Jonathan Cheban & Tiger Woods Are Joining Forces