Tiffany Haddish reveals Tyler Perry bought her a Tesla: 'I cried so hard'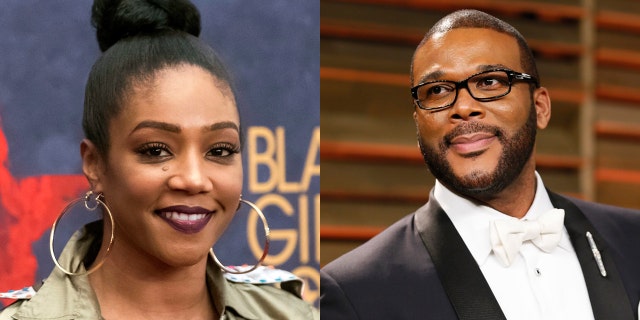 Tyler Perry took the opportunity to reward Tiffany Haddish for all her hard work because he knew she had trouble doing it herself.
Haddish took to Instagram on Friday to reveal that Perry had gifted her with a brand new Tesla, after she had said earlier this year that it was her dream car. The 38-year-old actress and comedian, who stars in Perry's upcoming film, "Nobody's Fool," shared the news with her followers in a series of videos Perry recorded himself.
"I wanted to give this to you and say you deserve it and I'm excited for you and all that's going on," Perry says in the video, before showing off her new ride sitting in the driveway. "Love you, Tiffany. Proud of you girl. It's all yours, here in L.A. waiting for you."
Tiffany Haddish Says Drake Asked Her Out on a Date, Then Canceled Last Minute
Haddish understandably couldn't contain her excitement -- or her tears. "So I got this message from my friend and Big Brother @tylerperry a week ago," she wrote. "When I tell you I cried so hard. I almost couldn't believe it."
"1st off a man has never bought me a car out right. I have always had to make payments. This was just out the kindness of his heart And probably tired of me talking about it all the time and I didn't have to do anything for it but a Great job in our New Movie 'Nobody's Fool,'" Haddish continued. "Thank God for kind people that want to spread happiness."
Tiffany Haddish's 7 Best Moments Hosting the 2018 MTV Movie & TV Awards
"I am now on my way to see if this is Really! Cause I am still waiting on the one @theellenshow said they would let me use for a week," she hilariously added, along with the hashtags "#sheready #Tesla #Nobody'sFool #thelastblackunicorn."
Haddish -- who is a spokesperson for Groupon -- is notoriously thrifty. While the actress' career couldn't be hotter, it wasn't always that way. In fact, Kevin Hart revealed on "Jimmy Kimmel Live" in May that he once helped Haddish out during tougher times, when she was living out of her car.
Kevin Hart Recalls How He Helped Tiffany Haddish When She Was Homeless
"I knew Tiffany when Tiffany was homeless. Tiffany was living out of her car and nobody knew. She was trying to keep it a secret," Hart said. "I was nowhere near Kevin Hart today and in my pocket I had $300 and I was like, 'Here. I don't know what your situation is, but hopefully this can do something for you in this time because I feel like you're not telling me something.'"
"Until this day, she's yet to bring up the money to give it back," he joked, after noting Haddish's unbelievable success after "Girls Trip." "I don't want to make a big deal about it because look it's one of those things where I'm waiting on her like to say it. When she says it, I'm like, 'Alright, yeah, you should!'"